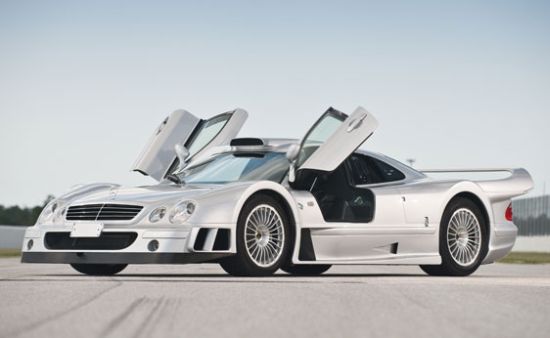 If you love Mercedes brand and looking around to own one of its exclusive editions, then there is bright chance for you to own a 1998 Mercedes-Benz CLK GTR, which will hit the RM Auctions on 17th of this month. One of the fiercest models and most desirable car from Mercedes stable, this CLK GTR model is the first of 25 editions ever created.
Powering the ominous beauty is a 7.3-liter dual overhead cam naturally aspirated V-12 engine that churns out a massive 720bhp. Engine is mated to six-speed sequential manual gearbox with paddle-shift operation lifted directly from the GT1 cars, enabling it hit 60mph from a standstill in 3.4 seconds and touches a top speed of 197mph.
The other features of the car include butterfly doors, double wishbone with push-rod, actuated coil spring with shock absorber front and rear suspension. In order to bring it to a halt, there are four-wheel vented carbon fiber disc brakes with anti-lock braking system.
This particular model up for auction has merely 1335 miles on the odometer. This rare CLK GTR model from the last year of the 20th century is expected to sell for £1million (USD $1.5616 million) at the auction block.