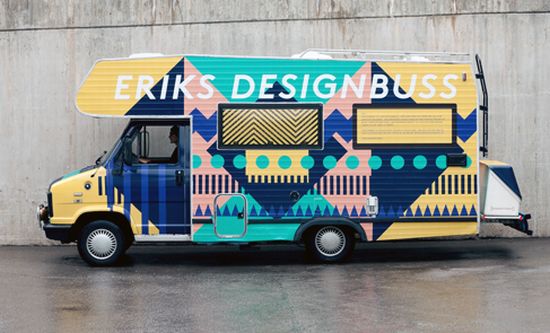 From homes on wheels to mobile restaurants and libraries, we have seen them all. In all these cases, the creators have converted some vehicle or the other to suit their purpose. One similar case is here. Erik Olovsson who is a Master's student at Konstfack University in Stockholm, Sweden bought an old motor home and gave it a new makeover to build a mobile design studio of his dreams. The bus provides Erik's design office a unique space and ability to drive it anywhere he wants.
Christened as Eriks Designbuss, the mobile studio began its journey in March this year and reaches to the customers at their doorsteps. The Eriks Designbuss mobile studio has a photo and print shop as well as incorporates all the necessary tools like computer, printer, camera, paper, cutting mat, etc. that Erik uses to take on small commissions from local companies, which include designing and printing visiting cards, menus, logos, signs, brochures and making animations. The core component of the conversion,  however, remains the community engagement.
The exterior of the mobile design studio has a custom paint job that features the graphics designed by Olovsson to grab people's attention. The interior of Eriks Designbuss is embellished with dizzy patterns and simple furnishings that show Erik's typical design philosophy. Additionally, the mobile design studio has a loft sleeping area and visitors can look through a selection of design books available in the bus.
The design studio bus also contains a small and easily portable table and some chairs that Erik use on his halts to consult with his clients. The best of the whole thing is Erick also works on service exchanges or trades to increase the interaction and engaging the new clients.
Via: Psfk /  Eriksdesignbuss