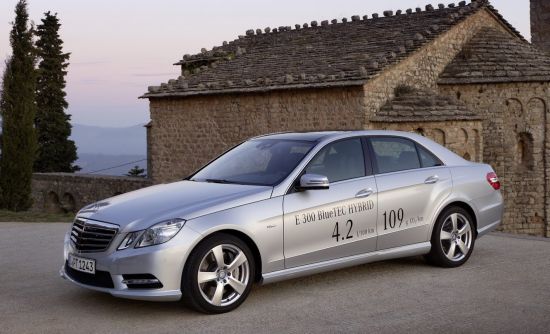 Mercedes-Benz E300 BlueTEC Hybrid model is in the news for a long time. However, now the UK pricing of the car has been announced. The most fuel efficient E-Class to be ever sold in UK, as the brand claims, is to be priced from £39,645 for the Saloon version and £41,435 for the estate model, with company car tax rates ranging from 12 per cent.
The diesel-electric hybrid is to be powered by a 2.1-liter four-cylinder diesel engine that generates 201 hp and 500Nm of torque. Engine is aligned with 7G-Tronic Plus automatic transmission and is connected to 20kW electric motor mounted within gearbox to save the place. Electric motor gets vital juice from 19kW Lithium-ion battery pack and adds 27 ponies and 250 Nm of torque, taking the overall power tally to 228hp and 750 Nm of torque.
The intricate combination of the powertrain propels the E-Class Saloon to get from 0-62mph in 7.5 seconds, whereas the Estate model does the same feat in 7.8 seconds, before touching the top speed of 150mph.
Some other unique features for both body styles include 17" alloy wheels whereas the buyers can specify 16" alloy wheels as a no-cost option, which is instrumental in reducing the CO2 emission to a minimum. Additionally, both versions come with leather upholstery, Becker Map Pilot Navigation and LED daytime running lights.
The fuel economy ratings for both versions are 4.2 liters/100km (65.7 mpg UK) for the saloon and 4.5 liters/100km (62.8 mpg UK) for the estate and CO2 emission ratings are 109 g/km and 116 g/km respectively.  The UK delivers of the vehicles will start in November this year.
Via: Paultan