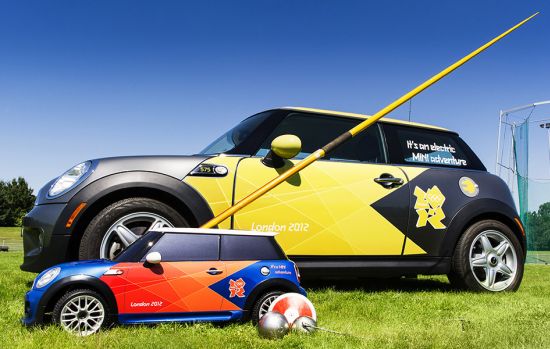 As the BMW remains the Official Automotive Partner of the London 2012 Olympics, we have seen couple its of electric vehicles ferrying VIPs, players and officials around, apart from other odd creations from German automaker like floating 2012 Olympic Park Pavilion. Today, BMW adds another vehicle to its fleet the Olympic Games but it won't be used for the transportation. Rather, it will serve as a remote controlled retriever of the thrown equipment.
Well, yes, Mini Cooper today unveiled three remote controlled cars to fetch the thrown equipments like javelins, discuses, hammers and shots. Christened as Mini MINI, the remote controlled electric cars are in ¼ scale configurations and have a payload capacity of up to 8kg each. The R/C cars can run for approximately 35 minutes on a single charge, before they are down for next 80 minutes for recharging the batteries.
Featuring working headlights, blue paint with orange Olympic livery and white roofs similar to those official Mini Coopers at Olympics, the toy cars join BMW's fleet of 200 electric cars that consists of 160 full-size BMW 1 Series Active E models and 40 Mini E hatchbacks. The r/c cars will cover a distance of 6km in a four-hour shift each day at Olympic and para Olympic games for the remaining nine days.
Via: Zercustoms