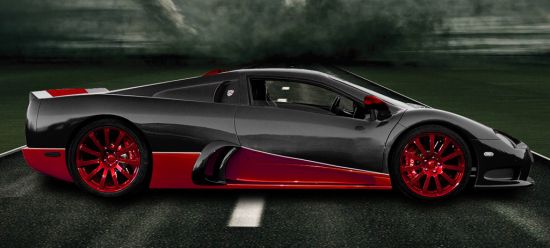 SSC is sending its ultra-fast Ultimate Aero supercar off in style. The multiple record holding and once the fastest car on the earth was discontinued to pave the way for the brand new Tuatara. However, Ultimate Aero supercar isn't sliding into the darkness all at once as the brand has announced a special edition of the Ultimate Aero, the Ultimate Aero XT.
Ultimate Aero XT will be a limited run of five cars and will come equipped with 6.9-liter twin-turbo V8 monster generating a whopping 1300hp and a peak torque of 1,004 lb-ft. Engine will be aligned with 7-speed triple-disc carbon clutch, working with paddle-shift interface behind the steering wheel, that conduit power to the rear wheels. The roaring beast, as Ultimate Aero XT is, takes merely 2.65 seconds to sprint from a zero to 62 mph, en route to its top speed of 273 mph. To bring the supercar to a halt, carbon/ceramic brakes, again, borrowed from the Tuatara are used.
Talking about the styling of the car, it will remain same to that of standard Ultimate Aero's, sans the exclusive color scheme that will be chosen by five lucky customers and will never be used again by SSC. The customer will select two colors for his car and SSC will use one on the up center of the car, over roof to down the tail, mirror and lower half of the beast, while the other color will be used to paint the outer sides of the hood as well as the sides of the car.
The other cardinal features on the exterior include carbon-fiber construction with aluminum crash structures, six-taillight system similar to one that standard Ultimate Aero had and wheels will be coded to customer's selection. The brand hasn't detailed the interior of the car that much for the time being, but we guess that it will also be the same, somewhat it not as a whole, as in the base model Ultimate Aero.
As the car is going to be unique in more ways than one, SSC has come up with a graduated pricing system that woos customers to run for booking one. If you book one first, you save $100,000 over one who does it last. Well yes, pricing for each model will be different. Chassis No. 1 will cost $750,000 and the amount will increase by $25,000 for every next number, with Chassis No. 5 costing $850,000.
Via: Topspeed