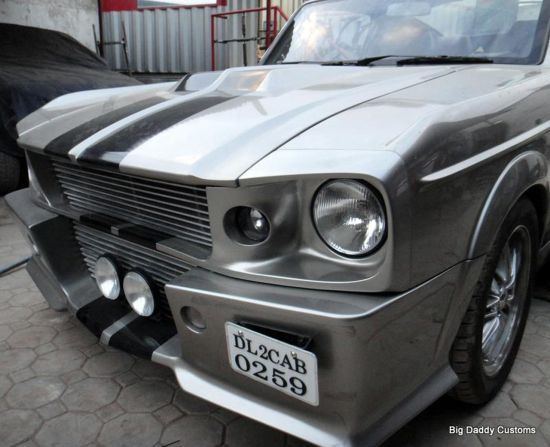 We haven't heard too often about any car tuning from India, but it seems we're going to see some real good custom cars coming from the South Asian country in the near future. After making inroads in the world of car tuning with its Range Rover Evoque based on a Tata Safari, Indian custom shop, BigDaddyCustoms, has struck yet again with Eleanor replica grafted upon a lowly Chevrolet Optra. To all of you diehard Mustang fans out there, you might surely be remembering 'Gone In 60 Seconds' movie released in 1974. The movie featured 1973 Ford Mustang Mach 1 as Eleanor car. In 2000, the film was revived with 1967 Mustang GT500 as Eleanor car.
We don't exactly know what was the inspiration behind this Eleanor replica created using Chevrolet Optra as a base, but the guys at BigDaddyCustoms have recreated the magic of Shelby GT500. They took a comparatively less powerful Optra, chopped its body off and gave it a new form by expanding the rear considerably to match the original car. The car features fiberglass complete steel, aluminum bodywork and custom silver paint with racing stripe finish. On the top of this, adding more to the aggression of the car is custom alloy wheels wrapped in chunkier rubber. The car fittingly pays tribute to the legend.
However, the replica car remains only for those who are more concerned about aesthetics than performance credentials. The reason being, Chevy Optra will nowhere be close to the performance and muscles Mustangs are known for. This is even expected for the tuner's Tata Safari based Range Rover Evoque replica, called Moon Rover, and that too won't match the Range Rover's thrill and driving feel a wee bit. In either of the two conversions, the tuner should have used engines that are more powerful.