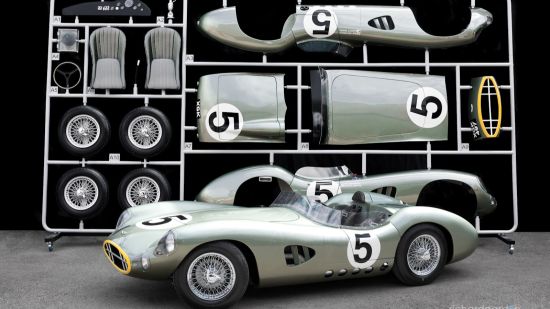 We all have fond memories of childhood and the auto enthusiasts might surely be remembering the first scaled car you owned and pretended to drive around in style. Those were simply the best days of life. Well, if you still have passion for the scaled cars, you might surely fall for this Aston Martin DBR1 replica.
Before we actually tell you about this 1:1 scale version Aston Martin DBR1, let's have a drive into the history to know what this car did in its heydays. Aston Martin built five DBR1s in 1956 and despite the glorious history of the brand; it owns the Le Mans title only once in 1959 that is. Late Carroll Shelby and Roy Salvadori drove this no. 5 car to victory.
The Evanta Motor Company that has already built a brand new carbon fiber DB4 Zagato in the recent past has struck again with Aston Martin DBR1 1:1 replica, which is meticulously built to the details. The replica cars pays tribute to the iconic 1959 Le Mans victory and measures 6.35 meters in length and 3.30 meters in width.
The full-scale hand crafted replica is made while paying attention to minutest details and incorporates sixteen inch wired wheels like in original, Mota Lita 15 inch steering wheels, full dashboard and racing seats in AM weave.
The only difference, however, is it's not drivable. In order to ease the transportation, the structure is made to collapse in two pieces. This replica Aston Martin DBR1 that is not only the amazing piece of art but also the symbol of automotive history will hit the auction blocks at Goodwood Revival on 16th September.
Via: Autoblog