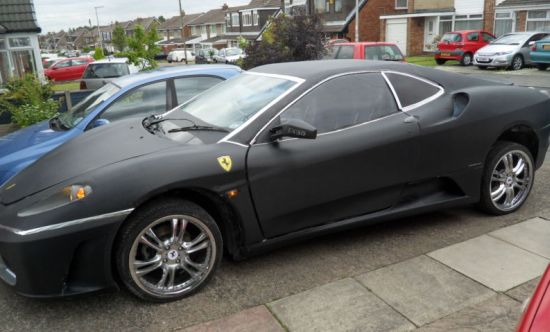 This is Ferrari F430. Right? Well, sort of. It's rather a conversion by someone we actually don't know anything about. All we know is someone from Wigan, United Kingdom took this Peugeot 406 Coupe to convert it into Ferrari F430 lookalike and we must appreciate the effort.
While pursuing such conversions, some details lack here and some there. This overkill isn't an exception. The overall configuration of drivetrain is a different story all together as Peugeot 406 Coupe has a front mounted petrol, engine while Ferrari F430 is powered rear mounted engine. The exterior is a similar story, but the replica car with Peugeot engine, at most the 2.9 liter V6, with considerably low output will nowhere be close to match the performance and driving thrill that Ferrari cars offer.
With an exterior matching to the original Ferrari F430, the Peugeot 406 Coupe got carbon fiber wrap, fitted with 18-inch chrome alloy wheels, , the car has been lowered, hopefully, to match the Ferrari, lexan polycarbonate windows but the 406 Coupe's windscreen is used as such. However, it doesn't look better than regular Pininfarina designed Peugeot 406 Coupe. Still, if you liked it, you can own it for 7,500 pounds.
Via: Ggtspirit