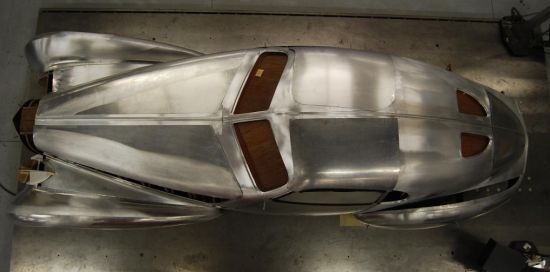 Jean Bugatti, son of Ettore Bugatti, was undoubtedly a great designer and engineer of his time. He helped design the twin-cam engines and independent suspensions. Jean was the man behind classic designs of Type 41 Royale and the Type 57. Unfortunately, he died at the age of 30 on 11 August 1939 while testing a Type 57 tank-bodied racer. We could imagine where Bugatti automobiles would have been had he lived longer. One of his unfinished dreams was 1939 Bugatti Type 64 Coupe that remained in sketches and never progressed beyond Jean Bugatti's final chassis.
However, Mullin Automotive Museum together with Stewart Reed Design and Automobile Metal Shaping Company has strived to give form to Jean Bugatti's unfinished dream by handcrafting a body for the car based on chassis no 64002. The aerodynamic coupe features aluminum body structure, original styling cues, riveted body structure and handcrafted papillon aka gull-wing  doors.
What makes the scintillating car even more interesting is the fact that it is crafted applying the techniques that were prevalent in the era. A fitting tribute to the Bugatti family and a remarkable piece of automotive history will be displayed at The Quail Motorsport Gathering on 17 August. Those of you won't be able to attend 'The Quail',  can have the glimpse of the car at Mullin Automotive Museum in Oxnard, California later this year.
Via: Motorauthority