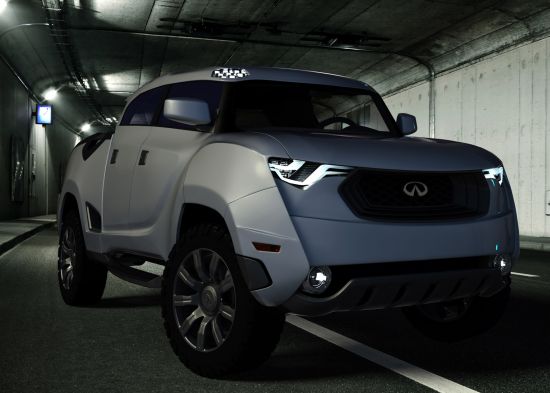 The brainchild of Iranian designer Emil Baddal, Infiniti BX Concept is conceived as a three-seater, 3.5 door Baja capable pickup truck. Hence the 'RX' has been included in the name. Capable to take on any terrain with relative ease, Infiniti BX Concept features ample internal and external space to carry as much paraphernalia as you need for such excursions.
Infiniti BX Concept is identical to Ford SVT Raptor in size and uses 3.7-liter V6 engine with the combination setup of one supercharger and one turbocharger. The combination churns out a maximum of 600hp and 700lb-ft of torque that enables the pickup truck to conquer roughest terrains.
The Infiniti concept is imagined in such a way that it separates the internal cargo space from the outer one. The space for cargo inside is behind the driver's seat and is isolated from the interior space. In order to give the driver easy entry and exit, the driver's door is designed larger than the front passenger side and bars as well as steps are integrated on the sides to make the bed easily accessible from each side.
Some of the other prominent features of the Infiniti BX Concept include two big LED projectors consisting of 8 small reflectors inside outfitted with 4 Hi bright large SMD LEDs that are integrated on top of the A pillars and can be targeted to different directions to make your night driving easy in rough terrains.
Thanks for the info, Emil Baddal.
All images used with permission from Emil Baddal.