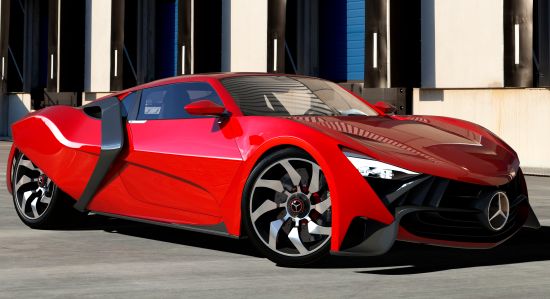 In the present Mercedes lineup, a mid engine supercar is missing. Keeping this thing in mind, Emil Baddal, based in Iran, imagines a concept for Mercedes with mid engine setup. He names his concept as Mercedes in SXR and it looks apt to fill the muscular mid mounted supercar slot in Mercedes brand.
Powering this beautiful concept will be a mid mounted 3.2-liter V8 supercharged engine that will conduit power to rear wheels. Almost identical in measurements to Mercedes Benz SLR, but with different proportions that owes to the placement of the engine in the middle of the body, behind the cabin precisely, this car is sure to give goose bumps to the Mercedes lovers who want to see Mercedes in a new avatar altogether. This concept is awesome and it won't be an exaggeration to say that it's an imagination worth commercialization.
Thanks for the information, Emil Baddal!
All images used with permission from Emil Baddal.