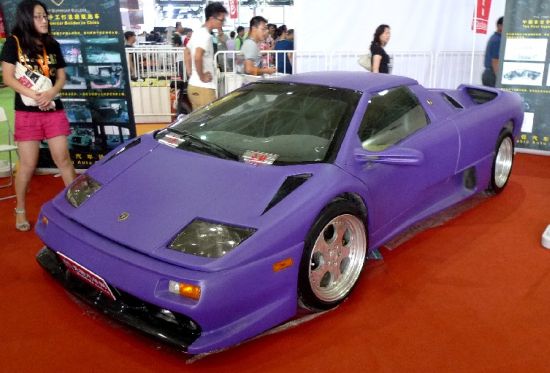 What Chinese are best at, apart from winning gold medals at Olympics? Well, of course, they duplicate things that are otherwise immaculate in their form and unbeatable if we talk about performance. They have proved it yet again and here is the proof. The Lamborghini Diablo lookalike car comes from China based Diablo Auto and it's fake. Nevertheless, another Lambo clone makes one thing clear that Chinese love Italian bulls and Lamborghini should make a note of it.
Two cars, one in purple and another in orange color, were spotted at the Auto Tuning Car Show in Beijing and the vehicle is named Lamborghini Diablo VT Roadster. One can easily spot the difference between the original and the replica car as some details go wrong here and some there .
The Chinese version of Lamborghini Diablo is created by Li Lin Tao from Diablo Auto who claims to be the first supercar builder from China. However, the fake Lamborghini in question here is a poorly built replica as its roof opens manually, battery located in the passenger's footwell gives a bad impression and dashboard is poorly managed.
If we talk about performance, it will nowhere be close to the real deal as the power comes from Toyota sourced V8 1uz twin-turbo engine, tuned to produce 450 horsepower. On the top of this, Lamborghini Diablo replica features handcrafted bode made from polyester and chassis from steel tubes. The work was completed at Diablo Auto – a small factory based in the wastelands north of Beijing.
However, keeping in mind the fact that Lamborghini Diablo was never exported to China, this replica may server well to Lamborghini fans who ever wanted to own one. But, it's unlikely that Diablo Auto's Lamborghini Diablo will be street legal and if you want to own one, you may end up driving it in the countryside.
Via: Carnewschina