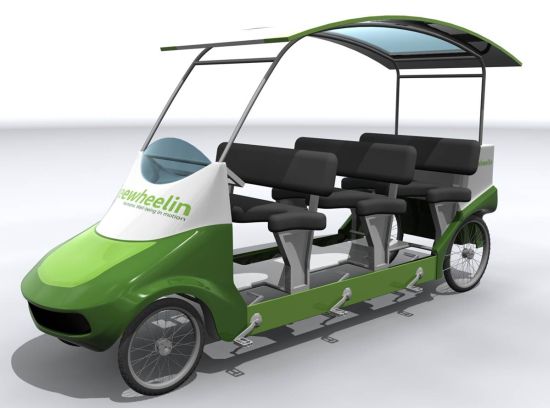 If you are a bicycle lover and enjoy pedaling around, this pedal powered bus is to attract you for sure. Dubbed as Freewheelin, the pedal powered bus for nine people (including driver) is to promote healthy lifestyle with fun and increase social interaction as eight people pedal together on the same platform.
In order to create this bus cycle and to help people have lifelong well being, Healthcare giant Humana Inc. commissioned Craftsman and a team of 20 people is building these pedal powered buses for eight months. Humana will bring 20 Freewheelin pedal powered buses to Republican National Convention scheduled to take place at Tampa from August 26-30. The Freewheelin bus cycles will also be available at Democratic National Convention, which is to take place at Charlotte from September 2-6.
Freewheelin pedal bus accommodates eight people and a driver at a time and will be used to ferry delegates, news media, convention goers and locals around the host cities in a healthy, fun and eco friendly way. The buses will be up for use to anyone free of charge from 11am to 7pm everyday during the convention period and from 1pm to 7pm on Sundays.
The pedal buses will follow a preset route in either of the two cities and will stop at the stations close to convention perimeter and popular destinations of the town. Rider can board the bus at any of the three Freewheelin stations that also offers the occupants with complimentary fruit, water and biometric health screenings, such as blood pressure and BMI checks.