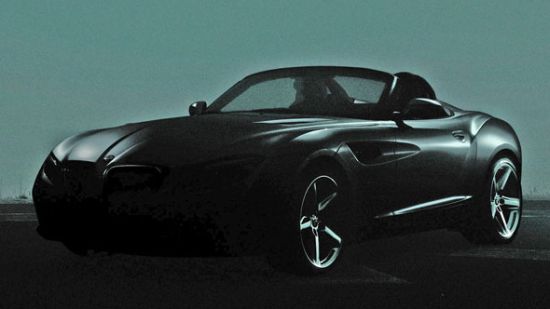 As the 2012 Pebble Beach Concours d'Elegance is inching closer, automakers are surprising us with their latest vehicles to be displayed at the show. This time BMW surprises us with its plans to take a convertible version of the BMW Zagato concept to the esteemed show. The outcome of the second collaboration between BMW and Zagato, a Milan based design and engineering firm, BMW Zagato roadster comes  three months after their first collaboration for Z4-based BMW Zagato coupe, revealed at Concorso d'Eleganza Villa d'Este.
BMW just gave us a sneak peek into what the roadster concept will look like, before it's up for the public viewing at Pebble Beach. From the teaser image, we can make it out that it will be almost identical to BMW Zagato Coupe in proportions but sheds its hardtop coupe design to pave the way for a sleek and sporty roadster. The roadster, which perfectly combines the design cues of the two brands, incorporates BMW's signature Kidney grille with matt-metallic 'Z' lettering, low driving position, a long but low bonnet and Zagato's exquisite Kamm tail rear-end.
This one-off creation from the two giants will flaunt totally hand built aluminum body, 19" alloy wheels and its cabin tailored with detailed leather stitching. BMW remains tight lipped about Z4 Zagato coupe's powertrain; however a couple of hoaxes that hit the web after its reveal say that it is expected to come equipped with a twin-turbocharged 3.0-litre six-cylinder engine which is expected to deliver somewhere close to 300kw. Engine is to be connected with six-speed manual transmission. If this comes out to be true, we can expect the same drivetrain for the roadster version. The things, however, will be in the clear light of the day with its reveal only. Keep your fingers crossed and stay tuned as we will keep you updated on the same.
Via: Caradvice