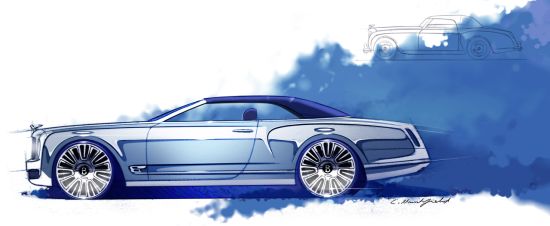 Bentley Mulsanne sedan is the heartbeat of millions of luxury car lovers and brand's fans. However, it's a rare sight when you see a $300,000 Bentley Mulsanne rolling on the road. The car arrived in 2010 and with that ended the range-topping Azure convertible thus leaving only Continental GTC range as open roof models in Bentley lineup.
The brand now aims to add a new convertible version to its range and gives us a sneak peek into how the Bentley Mulsanne will look like in a convertible avatar. Aimed at the new and emerging markets, the interior of the future open convertible concept gets inspiration from the luxury powerboats.
The sketches of the two-door, four-seat soft top convertible version from Bentley was revealed at a private event during the past weekend at Pebble Beach which was latter followed by the press release. The sketches of the car have 1956 Drophead Coupe printed along, which is clear indication that it  will have a great influence on the convertible Mulsanne. Expect the convertible version to come with the same 6.75-liter V-8 as in Mulsanne. Engine is connected with eight-speed transmission that sends power to the rear wheels.
If we have a look at the sketches, we can see the striking rear fender, a low top in comparison to high beltline of the car as well as trunk lid and hood form a line that cocoons the cabin like a boat's gunwale. What seems to be a possible successor to the Azure, the Mulsanne based concept also features two elongated doors, a chopped wheelbase, raked windshield, hydroformed aluminum panels and accentuated LED lights.
Inside, you can find a comfortable seating space for four with leather finish, polished stainless steel and signature wood. Though Bentley stresses that its designers merely gave a glimpse of future soft-top convertible, but we assume that the concept is already near to production and can be revealed at any of the upcoming auto shows.
Via: CBD