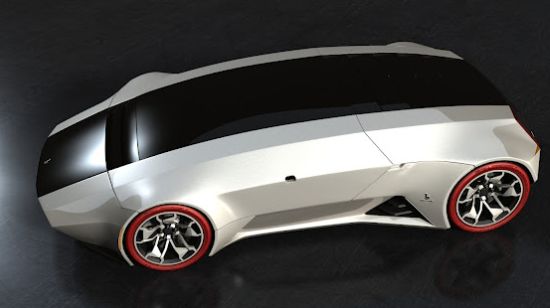 Here is another supercar concept and it's really awesome. The brainchild of Maxime de Keiser, the Bertone Raymanta 2012 concept pays warm tribute to 1960s dream cars by Bertone. The designer created the concept with the intent to bring forth the visions of the designers from sixties who were obsessed with futuristic vehicle shapes that include spaceship like lines, advanced materials and technologies and aerodynamics.
The inspiration for the concept came from the prototypes of the past that include Bertone designed Lancia Stratos Zero and the Alfa Romeo Carabo as well as 512 S and Modulo by Pininfarina. Apart from that, the minimal shape of the vehicle owes to the shapes of sea creatures like manta ray and the shark-whale to name a few.
What you can see as one of the most prominent features of the concept is its side windows, mirrors and rear window replaced by cameras that are aligned with the interior displays. In the words of the designer, it helps avoid breaking the fluidity of the main lines with elaborate details and at the same time create an eerie sense of the blindness that reinforces the sense of mystery, danger and otherworldliness associated with fabulous creatures of the deep.
Thanks, Maxime de Keiser!