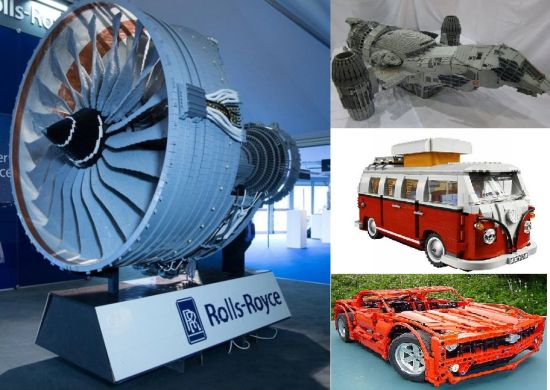 Lego bricks have long been a tool to give fancy of mind an outlet. As a result, we have come across scores of Lego creations that one can't help but appreciate. From working models to mere pieces of art to scaled versions and full size replicas, Lego artists have impressed us with their creations. They will obviously continue doing so in future too. However, by the time we introduce you with another great piece of Lego art, here is a list of amazingly cool Lego creations from recent past. Hit past the jump to feed your eyes with the same.
Lego Rolls Royce Trent 1000 replica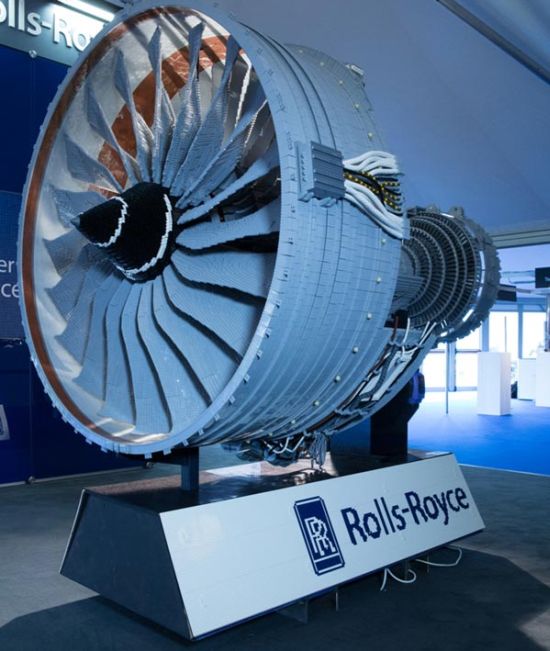 Rolls Royce Trent 1000 powers Boeing 787 Dreamliner aircraft in real. The Lego creation here in question is exactly the half size replica of the original engine built by none other than Rolls Royce. It was revealed at the Farnborough International Airshow. The whole model is created using 152,455 Lego bricks in total and incorporates 160 separate engine components. The Lego model of Rolls Royce Trent 1000 measures over two meters long and 1.5 meters wide. The total weight of the Lego engine is 307 kg.
Lego Firefly's Serenity Spaceship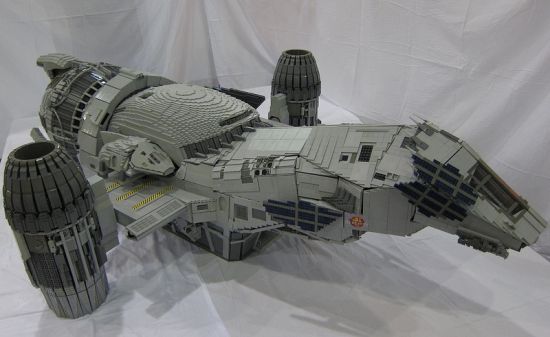 Created by Adrian Drake, the Lego model of Firefly's Serenity spaceship comes out after the creator puts in 475 hours in 21 months. Thoroughly built spaceship that takes form out of 70,000 Lego bricks is seven feet long and weighs 135-pound. What makes the Lego Firefly's Serenity spaceship different from the others is it features all the compartments from the set, two engines that rotate, the cargo bay and drive lights up, wings expand and Inara's shuttle detaches. The Lego Firefly Serenity spaceship is an amazing feat of Lego engineering.
Lego Ferrari F1 replica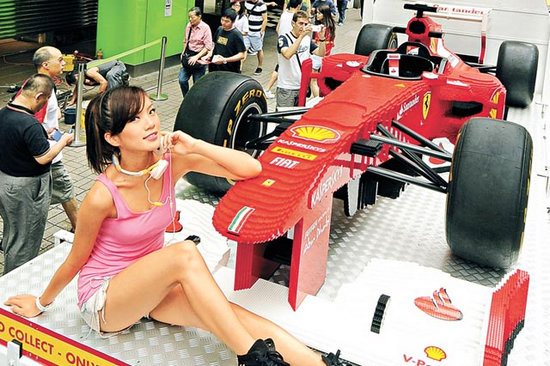 This is a full size Ferrari F1 replica created out of Lego blocks. The amazing piece of art is created by Shell in collaboration with Lego and comes equipped with real tires and seatbelt. Lego Ferrari F1 replica is built to the details and takes form after the team worked vigorously for 810 hours. The total weight of this 1:1 F1 replica is 700 kg, which makes it heavier than the real F150o Italia.
Lego T1 Camper Van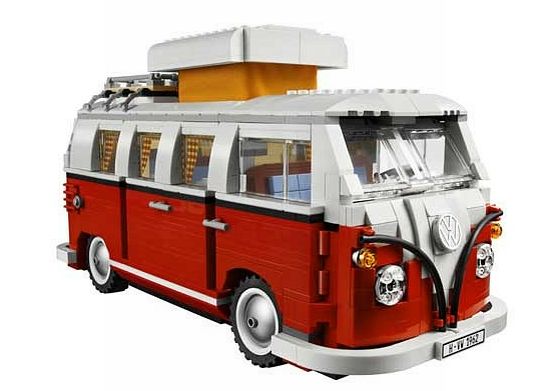 This Lego model of the Volkswagen's 1962 split-screen is amazing piece of art that came into being after 1,332 Lego pieces were put together. Lego T1 Camper Van features a pop-up roof, air-cooled engine and a seat that folds down into the bed. Apart from that, the Lego T1 camper van flaunts folding table and a closet. You can own this for a cool £79.99.
R/C Lego Bugatti Veyron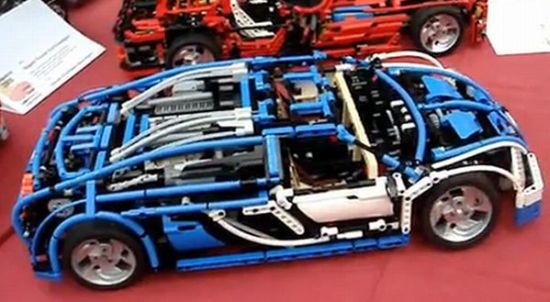 Well, this remote controlled Lego Bugatti Veyron is what I really consider as one of the most amazing feats of Lego engineering. The reason being, it's a moving one and features RC braking system, power tegra roof and motorized rear spoiler. Equally stunning is the creation of functioning seven speed sequential gearbox plus reverse that makes it a real eye candy.
Lego primed supercar 2010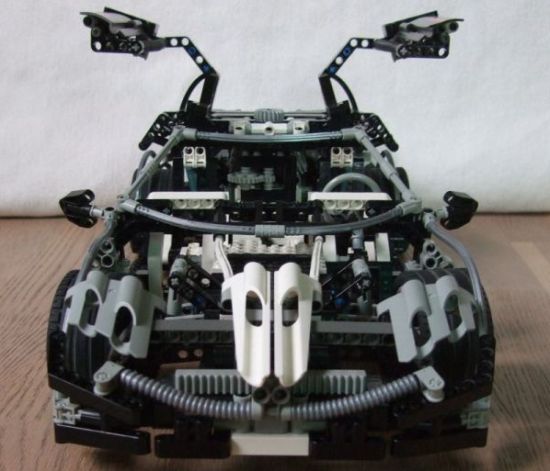 Coming out of the skilled hands of Marvin G, this Lego Primed supercar 2010 or 1:9 Supercar 2010 is, again, a creation that outshines the others. The Lego vehicle is equipped with mid mounted V10 engine connected to five-speed gearbox with reverse and fully independent suspension system. Apart from this, functioning hood and trunk, wheel actuation, adjustable mirrors, shifting link system, automatic gull wing doors and damped shock absorbers are among the prominent features of this Lego creation, which is 51cm long, 22cm wide and 12cm high.
Lego Technic Ferrari F1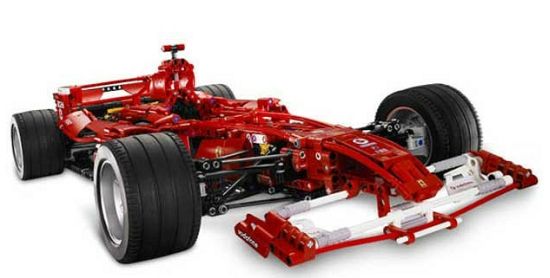 This Lego Technic Ferrari F1 is 1:8-scale version. It's a commendable piece of art with enormous efforts put by the engineers in its making. What makes it worth mentioning here is the fact that it has functioning pistons and suspension. On the other, it features a removable nose cone, rear wing and engine cover.
Full size Lego Camaro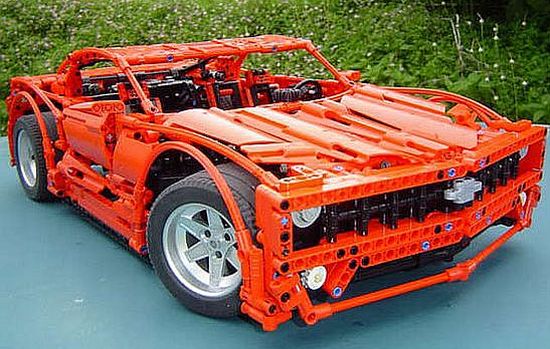 This life size replica of Camaro made using colorful plastic bricks is created by a Florida based Designer and looks nothing less than a dummy on Camaro wheels. Surprisingly, this Lego Camaro comes with fake engine and meticulously detailed interior as well as it flaunts the smooth curves, which is made possible using pieces from the Lego Technic line of brick tools.
Lego Technic Motorized Bulldozer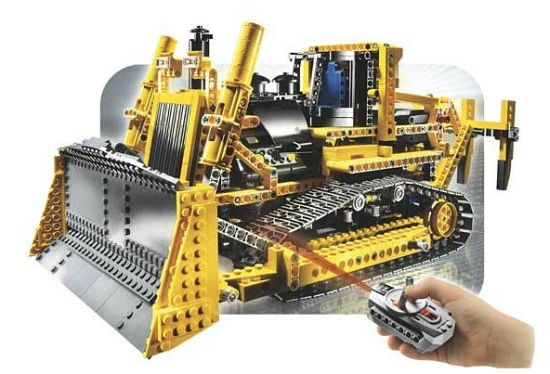 One of the most intricate pieces of Lego engineering, this motorized Bulldozer is created using 1,384 Logo blocks. The Lego bulldozer is operated with remote control that makes its blade as well as the bulldozer function. The Lego enthusiasts rate this creation as one of the best creations from the plastic blocks.
Life size Lego Scuderia Ferrari F1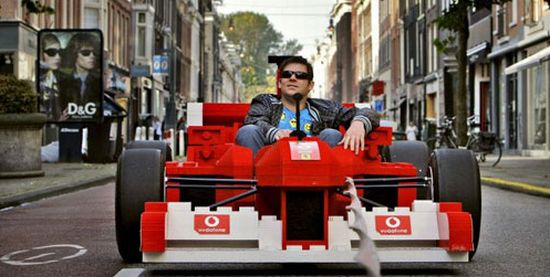 This full size Lego Ferrari Scuderia F1 car was revealed to promote the Lego World in October 2008. The Jetix presenter, Leon Krijgsman rode this Lego Ferrari F1 in the streets of the Amsterdam. This Lego Ferrari F1, which is created while putting 80,000 Lego bricks together, celebrated the anniversary of