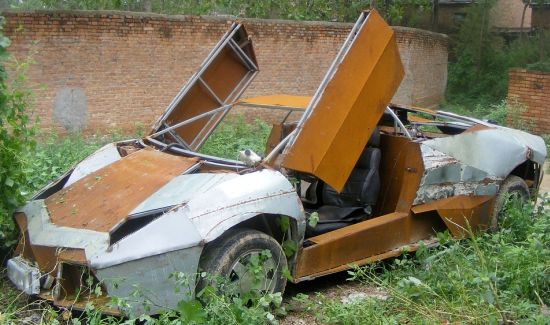 It was just a while we wrote about Chinese love for Italian bulls. Here is another proof of that testament. Another Chinese lover of Lamborghini has built a Reventon supercar for himself. Well, Dailymail calls it labor of love and rightly so. Wang Jian, 28, from the Jiangsu province in the east of China has passion for cars since his childhood.
Mr. Wang who is a farmer and a mechanic tried to build a replica of the supercar on a Volkswagen chassis last year but a small replica isn't all he wanted. Consequently, he pursued to build a full-scale replica of the Reventon by welding the chassis and shifting the engine from the front to the rear of car before he finally comes up with this rusty roadster.
Wang constructs the exact replica of Lamborghini Reventon that costs a whopping £840,000 in real using nothing but scrap metal and the cost involved in its making is merely £6,000. However, the replica isn't a gushing beast as it has a speed that most of the bicycles can beat on road. The replica isn't street legal either and is used to transport fertilizers only.
Nevertheless, what do you expect from someone who has passion for Lambos but paucity of resources? This creation isn't bad, I'd add surely, but an effort worth huge applaud. Kudos to Wang for giving his dream a shape on his own!