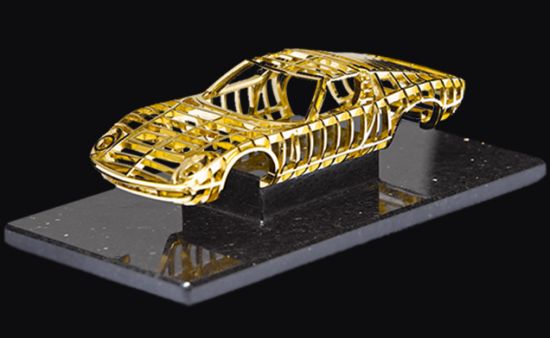 Dante has already impressed us with his craftsmanship and we have great pieces of art from the award-winning Swiss artist. His legendary 1:24 gold finished scaled interpretations include an Aston Martin DB5, Ferrari 250GTO and Mercedes-Benz 300SL models. However, we are going to introduce you with yet another scintillating creation coming out of the skilled hands of Dante, the Lamborghini Miura.
With the intent to pay tribute to the iconic sports car from Lamborghini, Dante added 1:24 scale model of Miura to his 1:24 scale interpretations and it's, as usual, finished in 24 carat gold. Dante's scaled Lamborghini Miura will be premiered at a special event at Abu Dhabi during the Formula One Grand Prix in November where other 1:24 legendary sculptures i.e. Aston Martin DB5, Ferrari 250GTO and Mercedes-Benz 300SL will join it.
Like other sculptures from the Swiss artist, the scaled version of Lamborghini Miura will be mounted on a black marble. All the 1:24 interpretations will be encased in a superb piano black lacquered presentation. The event will have 50 examples of each model and will come with a price tag of 50,000 Swiss Francs ($51,953) for each example. Apart from that, one solid scaled version of each model will also be displayed as a completely unique collector's piece with a whopping price tag of 100,000 Swiss francs for each.