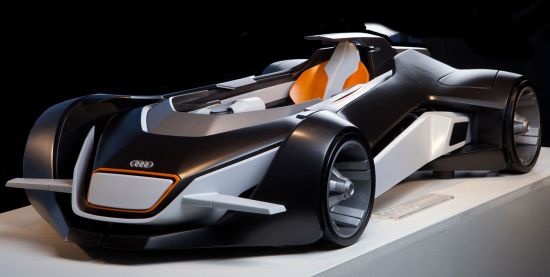 Out of the many concept cars that are designed in line with the current trends wherein the automated vehicles are taking controls away from drivers, Eric Leong goes against the rage. In his Audi Elite concept, he tries to underline the connection between man and the machine and puts the control back in the hands of the driver.
Before we discuss part in the coming lines, let me give you a brief insight into Audi Elite concept. The modern products and various industrial designs influence the design of the vehicle considerably, whereas the control system is inspired by the advanced interface in the videogames and interaction industries.
Elite concept is a futuristic car with a single-seat layout, similar to one found in racecars, and a revolutionary control system based on the driver's body moments. The complex control system allows the driver to control the car by moving or rotating various part of the body that include hands, arms, feet, legs and body as a whole.
Once the driver gets accustomed with the control system, the vehicle also incorporates an advanced learning platform with motion sensors that give the user a prices control of the vehicle to face the greater challenges on the road. The design aims to build a strong link between user and the machine by adopting a motorcycle like approach.
Audi Elite concept is the part of a project officially sponsored by Audi and developed by Eric under the mentorship of Klemens Rossnagel. The concept was unveiled at the Umeå Institute of Design 2012 Degree Show.