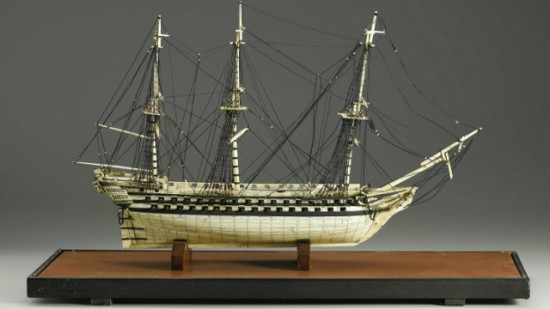 What you do when you have a plenty of time at your disposal? Either you sit idle and get bored or you do something creative to pass your time. Well, the French soldiers in British prisons during Napoleonic Wars couldn't sit idle and built complicated models of enemy ships from human and animal bones. What they come up with are the eerie pieces of art that sells for thousands of dollars at auctions.
As the rift between France and Britain continued for more than five years, some prisoners from both spent more than a decade in the dungeons. Whereas British prisoners spent more of their time in recreational activities, French developed a morbid habit of developing enemy ships out of nothing but bones.
Now you might be thinking where they got all these bones. The source for the bones is as macabre as the creations. The prisoners kept the bones from the pig and mutton meat served to them by Britishers but that didn't suffice at all for their intricate pieces of art. So, they used bones uncovered by roving pigs from the shallow graves around the camp to complete their creations, without caring least about who the bones came from. The bigger bones were used for creating the body of the ships, whereas the smaller ones with the pieces of wood were used to detail the cannons and masts.
Well, bones aren't the lone thing used in making the ships but the tissue papers were used to create the sails and prisoners used their own hair for fixing the sails. Even though these art ships weren't made to the details, yet keeping in mind the fact that they were created by prisoners without access to the rear ones, they still remain great specimen of art.
Via: Fineart