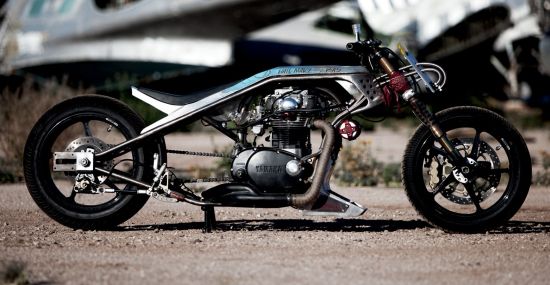 In the world of custom bike building, some names really big and make considerable difference. ICON Moto is one of them. The gear and apparel brand, ICON Moto is one of the most creative minds and they have come up this time with a new entrant to ICON 1000 lineup. They don't usually play too extensively with the apparel of a motorcycle but what they have come up with something which is not only impressive, genuine yet crazy at the same time.
Let's come back to its latest creation, 'Low Down & Shifty'. Made with a post apocalyptic approach to ride a motorbike, Low Down & Shifty is based on a 1974 Yamaha XS650 and the custom bike can really be deemed as one of the most ferocious XS ever. Featuring hand built aluminum bodywork and custom frame that hides the fuel tank underneath, the custom XS borrows front end from Hayabusa.
The only original remnant of 1974 Yamaha XS650 is its engine, which has also been modified to produce 750 cm3 with a set of hot cams and two mikuni carburetors that are fed via Pingel petcocks. Apart from this, Boyer ignition provides the spark to the motorbike and it emits through MotoCzysz C1 exhausts. The custom bike also features kidney-rupturing suspension, limited lighting and has no fuel range that makes rough and an ideal ride for a post apocalyptic scenario.
Via: Bikerscafeblog