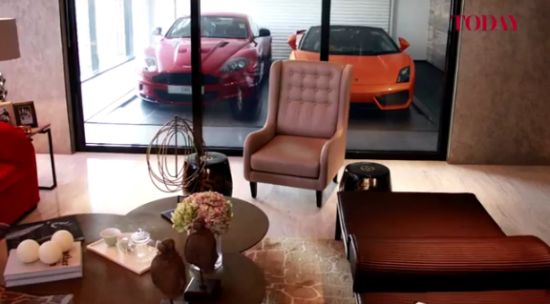 There had been examples in the past where people have spent huge bucks to park their Lambos or Ferraris for that matter in their living space. Some of them specially designed and built homes accordingly, some got special parking built for the purpose while a few sacrificed their bedroom space. Those were some of the unique creations from the auto buffs who don't wanna miss a look of their beloved wheels at any given time.
Those home garages were the labor of love. However, Hamilton Scotts, Singapore based company, has created Sky Garage Apartments that include special garages connected to their living space, just to rid the rich buyers of the parking woes. The apartments include one elevator for the passengers and another, which is biometrically controlled, for the prized iron beauties.
The lift directly parks your beautiful car beside your living space and you won't miss the look of your prized possession before going to bed and when you open up your eyes in the morning. This is sure to give not only delight to auto buffs and car maniacs but also a chance to safely park their car near their apartment. At the same time, apartments will rid them of the parking problems that crowded cities like Singapore is face to face with.
Of course, good things come in small packages and they come up with a hefty price tag. The Sky Garage Apartments aren't an exception. If you want to own one of these apartments, the hefty price tag starts from $7.5million for a two-car garage home, but it goes up to $24 million for the loft with four parking bays.
Via: Autoblog