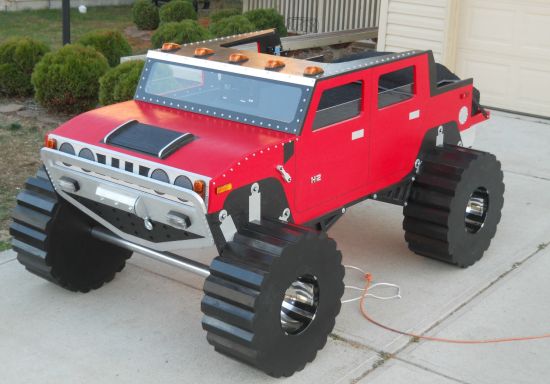 The most notorious gas guzzling beast from US, the Hummer H2 might have gone off the road forever but that surely hasn't stopped it giving inspiration to its fans to create something as unique as Hummer was. Here is one such Hummer fan who has taken inspiration from the beast to create this twin fantasy bed.
The Hummer H2 bed is created with quality red oak and is handcrafted as well as hand painted but not without paying thorough attention to the details. One-off-a-king bed that you can park in your living space comes complete with 7-inch TV/DVD entertainment center, functioning red lighting and remote holder.
Hummer H2 bed can be made in any color and dimension and you will surely be a prized owner of this creation that'll bring brand's feel to your home. Featuring wheels for easy portability, this completely new yet unique creation is up at Etsy for a cool $2,695 USD. Hurry up if you wanna own one as there is a single piece only or else you have to place an order for the same.