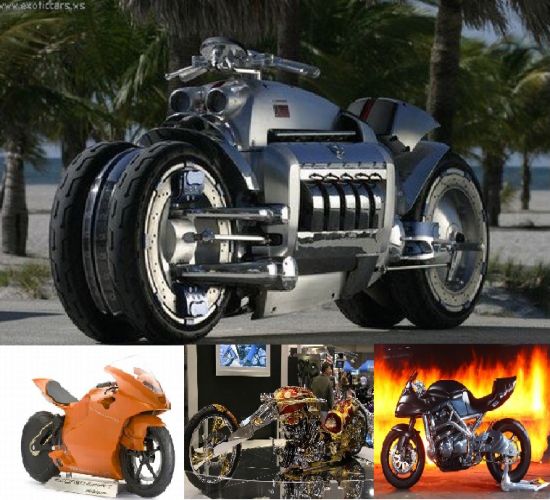 If you have an irresistible penchant for most expensive things and has loads of cash to support your desire, you would surely love to own one of these immaculate pieces of engineering on two wheels. By presenting a list of 10 most expensive bikes here, we've surely reduced your fatigue to look for one. The roaring beasts that represent the class on two wheels are the craziest things built and make you snobby. Owning one of these will surely give you an edge over your peers. So, hit past the jump to check out the list of most expensive bikes and let us know in the comments which one you would like to own and why.
Ecosse ES1 Superbike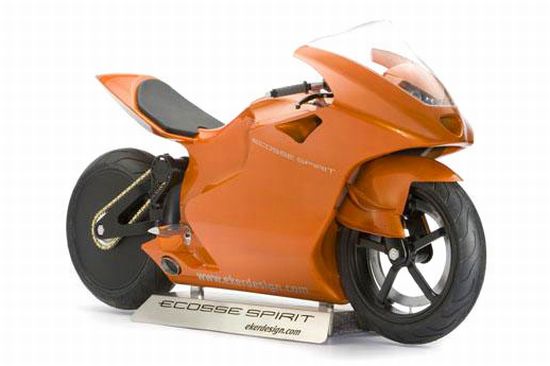 Price: 3.6 million
About the motorbike: Topping the category is Ecosse ES1 Superbike. Built to orders, Ecosse ES1 Superbike is developed on F1-specs. Christened as the fastest, lightest and the best handling motorcycle in the world, it comes equipped with modified 1000cc IL4 engine that is good enough for 200bhp and a top speed of 250 mph. What can really be deemed as the true F1 on two wheels, the bike is all about composite construction, electronic control system and ergonomic fitment. Developed by British F1 engineers and American designers, ES1 Superbike is a real stunner to pass by. However, anything good comes with a hefty price tag, and this superbike costs a whopping 3.6 million.
Jack Armstrong's Harley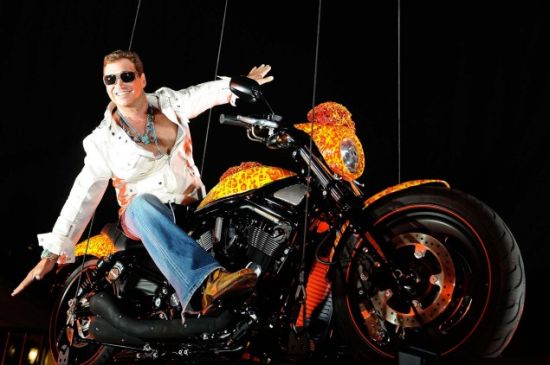 Price: 1 million
About the motorbike: Harley-Davidson motorbikes are the source for many custom builders for a long time and we've seen scores of them imagined in different forms. Here is one such bike. The one here in question is designed by famous artist Jack Armstrong and is priced at a staggering 1million. The world's first and only 1million Harley-Davidson, the motorbike has exclusive paint style called 'Cosmic Extensionalism' and combines the extreme colors and textures. The artist named his bike Cosmic Starship Harley Davidson and that does define it the best.
Dodge Tomahawk V10 Superbike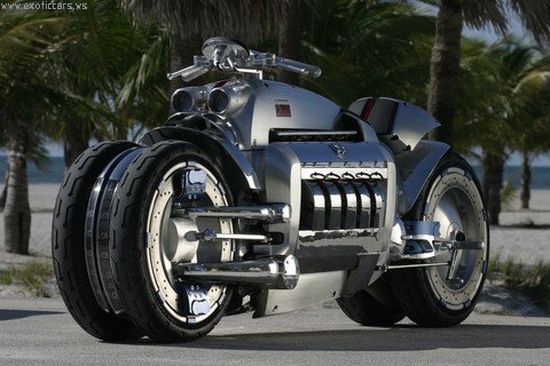 Price: $555,000
About the motorbike: One of the extreme bikes ever built, Dodge Tomahawk superbike is rightly called the automotive sculpture. The beast that has two wheels combined on either side for stability on high speed comes equipped with a huge 8.3-liter V10 engine sourced from Dodge Viper. The V10 engine develops a huge 500 hp and enables the bike to sprint from 0-62mph in just 2.6 seconds, with its top speed of 420mph. However, all this isn't come cheap and one need to shell out a mammoth $555,000 to own one.
Gold-plated custom-built Nehme-sis chopper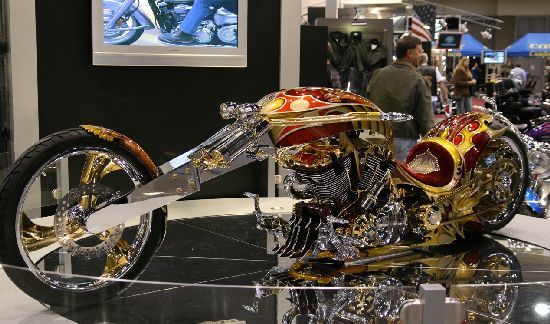 Price: $500,000
About the motorbike: Reveled at the 2008 International Motorcycle show in Seattle, Gold-plated custom-built Nehme-sis chopper is something that you'll see in surprise and appreciate but won't buy until you have heaps of cash lying around and that's catching dust. Exuding gold plated parts with excellent and superb finish as well as red velvet seat that compliment the luxury quotient, the extraordinary chopper costs an overwhelming $500000 USD.
Ecosse Titanium Series FE Ti XX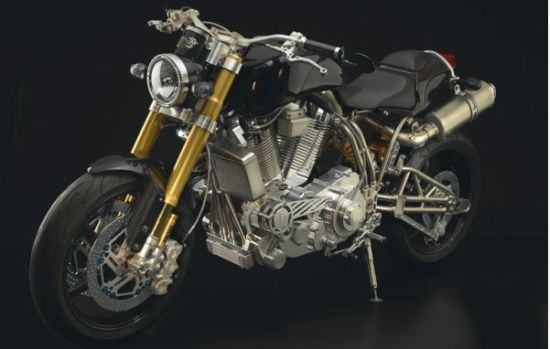 Price: $300,000
About the motorbike: The Ecosse FE Ti XX in the Titanium Series is the product of Ecosse Motor Works – a company already renowned for making some of the world's most expensive machines. The bike isn't just exorbitantly priced but is a beautiful beast offering sheer luxury on two wheels. The motorbike gets a heartbeat from a 2.4l billet aluminum power plant that develops a huge 225 HP. The Ecosse FE Ti XX is limited to merely 10 copies and features a saddle, which is ergonomic and adjustable. Apart from these, Ecosse FE Ti XX comes with BRM designed timepiece, which is carved with same serial number as on the handlebar clamps and VIN plate. The complete package costs $300,000.
NCR M16 bike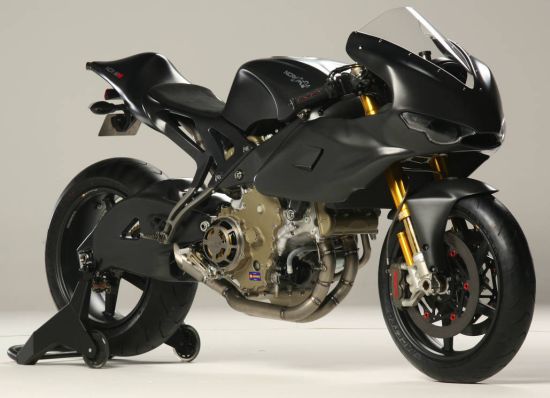 Price: $232500
About the motorbike: NCR M16 bike aka Millona 16 is exotic and fast. The creation from NCR arsenal is built on $72,500 Ducati Desmosedici D16RR platform and is modified considerably by NCR to make it lightweight, more powerful and, of course, faster. Featuring carbon fiber parts overall that include the frame, swingarm, wheels, fuel tank, fairing, tail and fenders, NCR M16 bike also flaunts titanium and avionic grade aluminum parts. Ducati's 989cc V-four motor that generates a total of 175hp has been tuned to get over 200hp and NCR adds traction control, data recording and user-selectable maps. After modifications, bike weighs 319 lbs, which is 15% less than the donor bike. The NCR M16 costs $232,500 and that includes $72,500 for donor bike and additional $160,000 for the tune up job, making it one of the most expensive bikes in the world.   
NCR Macchia Nera Concept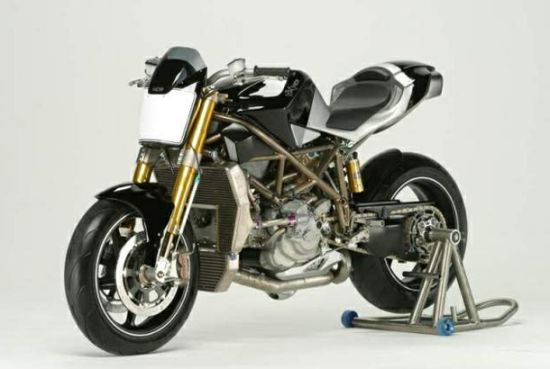 Price: $225,000
About the motorbike: The bike first appeared during EICMA in Milan in 2003 and made its first track debut at Misano WDW 2004 is built by Italian designers and engineers on Ducati Testastretta 998RS engine. The aesthetically pleasing bike, which is described as simply beautiful and beautifully simple by its developers, has engine fitted with titanium and aluminum lightweight metals and alloys. Ducati Testastretta 998R engine develops around 185hp and is mated to six-speed transmission that makes it a hell of a roaring monster at a top speed of 370km/h. The bike is priced at $225,000 and that sound ok when you have such a meticulously detailed track bike.
AEM Carbon Fiber Hayabusa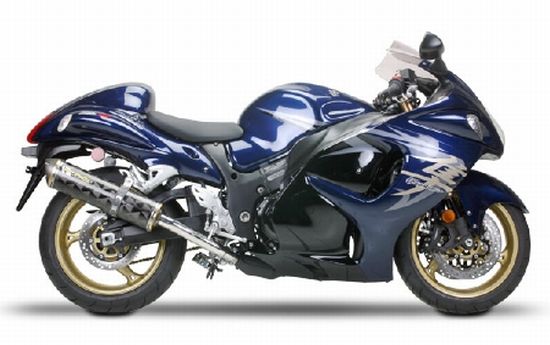 Price: $160,000 to $200,000
About the motorbike:  AEM Carbon Fiber Hayabusa is built by Suzuki and was reveled at SEMA 2008. Made fully using nothing but carbon fiber, the Suzuki Hayabusa is created by MV's director, Claudio Castiglioni, and has its engine management system done by AEM. Cost for the AEM Carbon Fiber Hayabusa bike is made to meet the strategic marketing needs starts from $160,000 and goes up to $200,000. The top speed of the bike is rated at 300 kms/hr.
MTT Turbine Streetfighter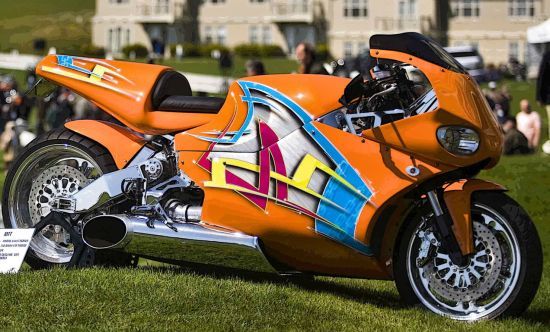 Price: $175,000
About the motorbike: With Rolls-Royce-Allison turbine engine, MTT Turbine Streetfighter is nothing less than a jet on two wheels. Rolls Royce-Allison turbine engine generates a whopping 320hp and 576Nm torque. Well, if that's not all you are looking for, MTT can upgrade engine to reach a 420bhp and 680Nm. The bike can reach a top speed of 400 km/h. Featuring tubular aluminum frame, two speed automatic transmission that sends power to the rear wheels, Brembo brakes that bring the bike to a halt, 17-inch carbon fiber wheels, rear mounted camera with LCD color display, MTT Turbine Streetfighter can run on either diesel or kerosene.
Icon Sheene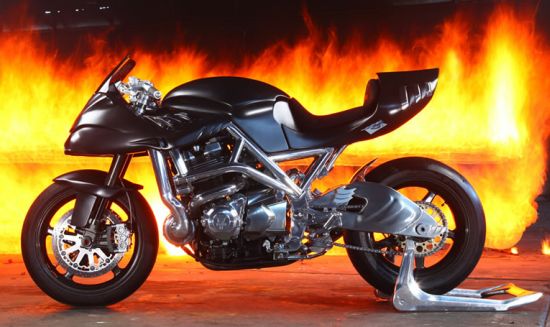 Price: $172,000
About the motorbike: Icon Sheene motorbike is built as a tribute to British world champion Barry Sheene. Icon Sheene is a limited run of 52 bikes with a hand painted image of a playing card by Mike Fairholme who had also painted Sheene's helmets. The bike features a 1400cc Suzuki engine with extra power conduit by Garrett turbocharger running at .4 bar is estimated at 250hp to make it nothing but a sleek beast on prowl. It costs around $172,000USD for each piece.