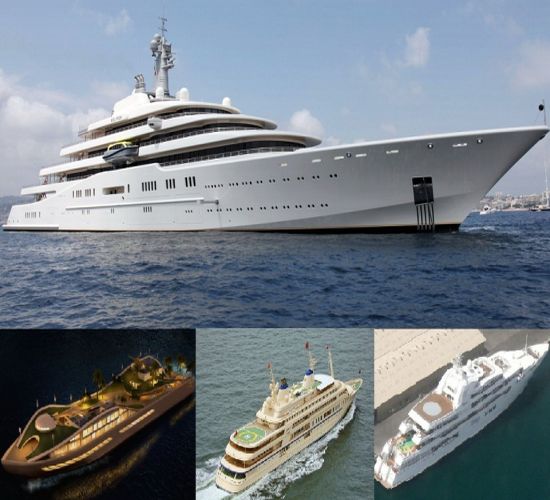 When we talk about superyachts, we think of those big luxury vessels on waves that serve as exotic castles for those with big fortunes. The luxury superyachts are mostly privately owned and remain prime spot for the exclusive time off. These expensive toys for rich boys usually carry a price tag of hundreds of millions. However, these massive luxury superyachts are the embodiment of 'bigger is better' mentality of the super rich. Here, we are compiling a list of largest superyachts – in the making or on waters – found in plenty in Mediterranean, Caribbean and the Middle East. Just hit past the jump to feed your eyes with amazingly cool vessels that are the proof of human supremacy and desire to excel.
Island (E) Motion superyacht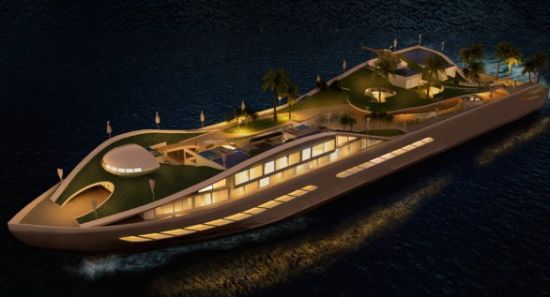 Total length: 590.551 feet
Cruising speed: 10 knots
Description: Island(E)Motion yacht is in the concept form as of now but could touch the blue waves in the times to come. Th superyacht was revealed by Co-founders of MCM Designstudio, Milena Cvijanovich and Denis Muller, at its exhibition booth during 1.618 Sustainable Luxury fair, held in Paris at the Cité de la Mode et du Design. One of the unique yachts on waters, Island (E) Motion is more a floating island than a regular superyacht. It has 180m2 VIP suites and four decks that are created out of recycled and recyclable material, a distinctive combination of solute and thermal panels and wind energy to generate power to support life on the vassal, new propeller tech and a fuel systems to cut down the power consumption. The floating island will be 590.551-foot long and will cruise at a speed of 10 knots.
Project Azzam superyacht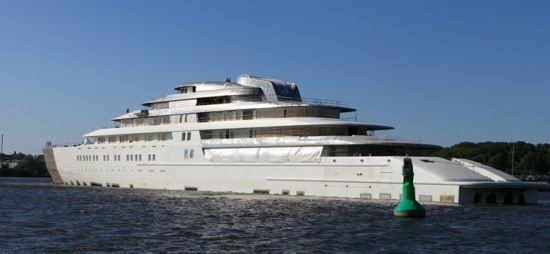 Total length:  590-foot
Estimated price: $627.4 million
Description: Project Azzam, which is the code name of the superyacht, is in the making. Prince Alwaleed Bin Talal Al Saud, a Saudi royal family member and business tycoon, is getting this superyacht built for a staggering $627.4 million. Once it hits water, it will snatch the  world's largest private superyacht title from Eclipse. The yacht will measure 590ft long and will be built by next year. However, there are rumors that it will be up to 220m long. There aren't much details available of the yacht but it is sure to be the largest yacht of the world.
Roman Abramovich's Eclipse superyacht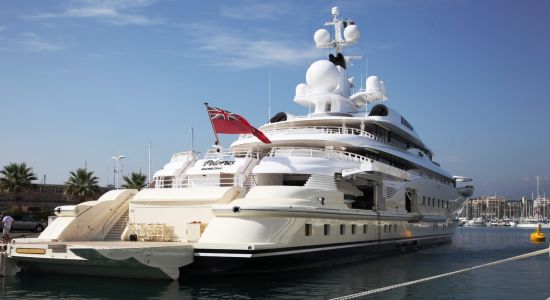 Total length: 533.14-foot
Year of build: 2010
Cruising speed: 25 knots  
Estimated price: 1.2 billion    
Description: Eclipse currently holds the titles of world's largest and most expensive superyacht. The superyacht has a total length of 533-foot and its price tag is reported at a staggering 1.2 billion. Owned by Russian billionaire Roman Abramovic, Eclipse superyacht was constructed by Blohm + Voss in Hamburg, Germany in 2010. Featuring two helicopter pads, 24 guest cabins, swimming pools, a disco hall, and it also comes equipped with three launch boats as well as a mini submarine. Not only is this, but the vassal also boasts the missile defense system, intruder detection system and bulletproof glass and armor plating for master suit and bridge respectively.
Sheikh of Dubai's Dubai superyacht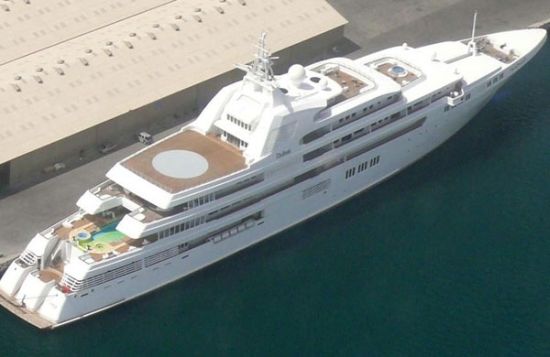 Total length: 531.5 feet
Year of build: 2006
Cruising speed: 26 knots
Total power: 38,500 hp
Estimated price: $350 million   
Description: Dubai superyacht that once hold the title of world's largest superyacht is owned by Sheikh Mohammed bin Rashid Al Maktoum who is the Prime Minister of UAE and the ruler of Emirate of Dubai. However, Prince Jefri Bolkiah of Brunei initially commissioned the yacht but its construction was delayed until 2001 due to reasons unknown. Sheik Mohammed bought the project in 2001 and the ship was completed in 2006. Currently the second largest superyacht in the world, Dubai has seven decks, numerous VIP suites, a room for 115 people that include crew and guest staff, swimming pool, helicopter pad and it has a range of 8,500 miles.           
Sultan of Oman's Al Said superyacht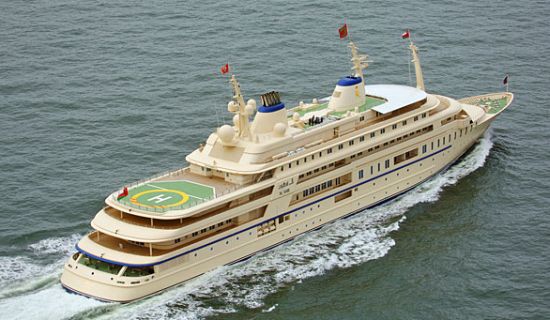 Total length: 508.5 feet
Year of build: 2008
Cruising speed: 25 knots
Total power: 21,992 hp
Description: Al Said luxury superyacht, which measures 508.5 feet long, was ordered to be made in 2006 and was handed over to the owner Sultan Qaboos of Oman in 2008 after completion. With the capacity to accommodate 70 guests and a 154 profession crewmembers, Al Said was the second largest superyacht at the time of its launch in 2007.
Abdullah ibn Abd al-Aziz's  Prince Abdulaziz superyacht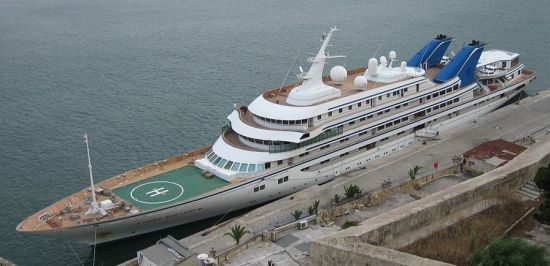 Total length: 482.28 feet
Year of build: 1984
Cruising speed: 22 knots
Total power: 15,600 hp
Description: Prince Abdulaziz is one of the luxury superyachts owned by Saudi Royal Family. Saudi Royal Family uses Prince Abdulaziz superyacht for business purposes and for pleasure. Built in 1980s, the superyacht was first set on sail in 1984. The ship was originally built for the late king Fahd of Saudi Arabia who named it after his son. Now his brother, Addullah, owns the ship. Prince Abdulaziz has a maximum width of 60 feet. It can easily accommodate 64 guests, a professional crew of 65 and can carry a payload of 5092 tons.    
Topaz superyacht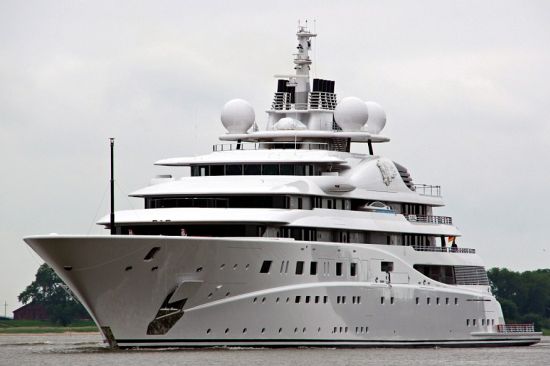 Total length: 482.28 feet
Year of build: 2012
Estimated price: £400million     
Description: One of the largest and most expensive superyachts ever built, Topaz megayacht is the imagination of British designer Tim Heywood. Having a total length of 482.28 feet, Topaz superyacht is the fourth largest built so far. There aren't much of the details available about Topaz superyacht as of now. However, expect it to have the state of the art and features like helicopter landing facility, tender garages, swimming pool and many other amenities that will be exclusive to Topaz.
Egyptian Navy's El Horriya superyacht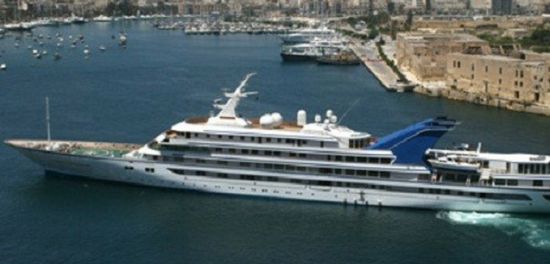 Total length: 478.08 feet
Year of build: 1865
Cruising speed:  16 knots
Total power: 19,550 HP 
Description: Designed on the same lines as the HMY Victoria and Albert II, El Horriya was built by Samuda Brothers in London in 1865. Currently holding the sixth largest superyacht title, El Horriya is also one of the oldest superyachts in operation. Originally built for Isma'il Pasha, the Khedive of Egypt, the superyacht is under Egyptian Navy and is used as presidential yacht at times. However, before taking its present form, it was extended in 1872 and in 1905 and was refitted in 1987.        
Al Salamah superyacht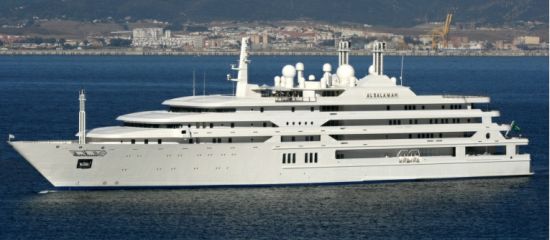 Total length: 457.02 feet
Year of build:  1999
Cruising speed: 22 knots
Total power:  17,540 hp
Estimated price: $200 million    
Description: Al Salamah was the second largest superyacht when it was launched, 5th largest until 2005 and moved to seventh position in 2011. HDW and Lurssen Yachts built this superyacht in Germany in 1999 for the late crown prince of Saudi Arabia, Prince Sultan bin Abdul Aziz, under the code name of Mipos (acronym for Mission impossible). The details of the superyacht have been kept secret but it is believed to have 80 rooms, a helipad, indoor swimming pool and features glass roof. Al Salamah yacht can accommodate as many as 40 guests and a crew of 96 with its total cost estimated at $200 million.     
David Geffen's Rising Sun superyacht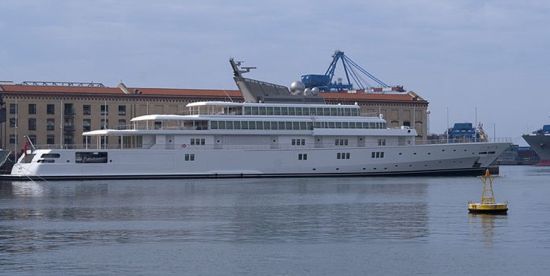 Total length:  452.76 feet
Year of build:  2004
Cruising speed:  28 knots
Total power: 48,920 hp   
Estimated price: $200 million     
Description: The Rising Sun superyacht is the brainchild of late designer Jon Bannenberg and was built by Germany's Lürssen. Larry Ellison, CEO of Oracle Corporation, bought the yacht and it is currently co-owned by Ellison and David Geffen. Having 82 rooms in five stories with a living space of over 8,000 square meters, Rising Sun superyacht features a gymnasium, Jacuzzi bathrooms, private cinema, basketball court and can accommodate up to 16 guests.       
The Republic of Turkey's Savarona superyacht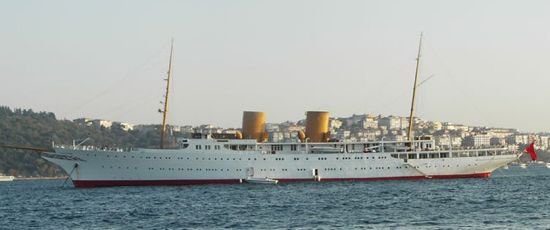 Total length:  446 feet
Year of build: 1931
Description: Savarona superyacht is owned by Republic of Turkey and is currently on lease to Turkish businessman, Kahraman Sadikoglu. The yacht was built by Blohm & Voss in Hamburg, Germany in 1931 and was bought by Turkish government in 1938. Some of the unique features of the yacht include a swimming pool, theater, library, Turkish bath and gold trimmed grand staircase. Savarona superyacht up for charter and the charges for the same begins from for $200,000 to $400,000 per week.
Yuri Scheffler's Serene superyacht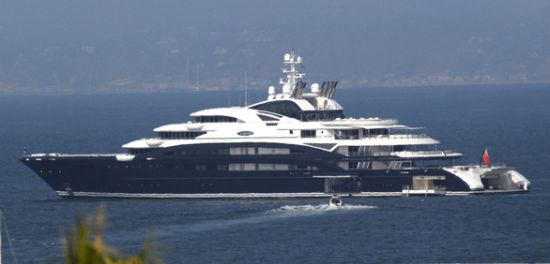 Total length:  439.3
Year of build: 2007
Estimated price: $330million
Description: The brainchild of Monaco's Espen Oeino designers and built by Fincantieri Yachts, Serene is the biggest superyacht Italy has ever produced. Not only is this but it is deemed to be one of the most technologically advanced superyachts currently under construction. Featuring seven decks and an interior space of 50,000 square feet, the yacht features two helipads, and a saltwater swimming pool.