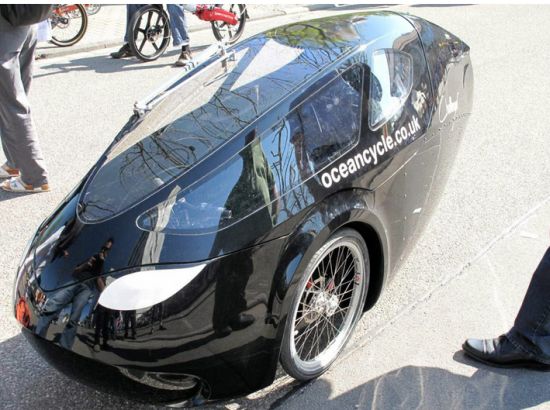 Velomobiles aren't new to anyone of us. They are in use for a long time. However, we've seen a considerable rise in the trend recently. The Velomobiles, just for the sake of introduction, are usually single-seater human powered bicycle cars that are enclosed for aerodynamic advantages and protection from weather and collisions.
The one here in question is from UK based Ocean Cycles. It's called the Challenger and is a real eye candy. For the sleek design cues, Challenger Velomobile looks up to Cycle Engineering's Sprint Trike. The pedal powered machine comes with an electrical assist system to support you when you are little tired of pedaling or riding on transcending roads.
In the times wherein the fuel costs are sky rocketing and fossil fuel sources are drying hard, Velomobiles might be a viable option for daily short commutes. Challenger is, however, little different as it firmly deals with the comfort, stability and safety as well as offers higher speed with efficiency and great handling.
Challenger Velomobile offers 50-60 per cent faster cruising speed than an unfaired trike. The human powered vehicle (HPV) has well placed ventilation ducts to keep the temperature stable, ICE full suspension to support the plush ride and to keep wheels stable on road, full canopy for better aerodynamics and weather protection and protective roll cage construction to keep you safe during any collision whatsoever.
Challenger Velomobile is a complete package that not only adds more to your style quotient but also takes a very good care of your health and environment. With complete shell, LED running lights, turn indicators, battery and gear cables, fully assembled Challenger costs $ 7518 and that's not too much keeping in mind it saves lots of money that you would have spent on fuel otherwise and makes you health too.