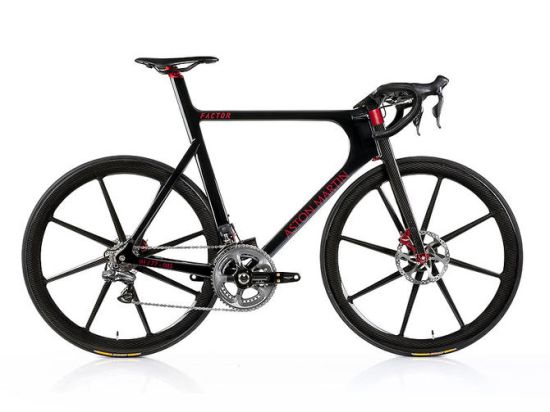 Aston Martin, a renowned name in luxury car market, and Factorbikes, having the title of building world's most technologically advanced bike, have teamed up to create what could be deemed the world's most technologically advanced road bike in the times to come.
Well, it's expected that when two brands with expertise in their respective fields meet, they produce and set milestones for others to achieve. And yes, these two have done exactly the same by creating a bike that any nerd would love to ride. The cycle borrows its name from Aston Martin One-77 (no more available in the market) and has been christened as One-77. Factorbikes have provided the advanced technology for One-77 bike and it has been built with carbon fiber that keeps its weight to bare minimum.
Apart from this, what makes this bike to grab the world's most technologically advanced title is its on-board high-end computer system, taken from Factor Bikes' F001 and upgraded for One-77, that rider controls from handlebar-mounted controls. Other features that make it simply worth owning is a collection of sensors that include crank-position sensors, rear-wheel speed sensor which give riders a viable option to calculate more than 100 different parameters to measure crank torque, acceleration, rate of climb, power, heart rate etc.
Further, it comes equipped with Shimano Dura-Ace gear that generates necessary torque to propel wheels that are custom made. It has high-intensity LEDs that adorn the front and rear of the bike, disc brakes bring the cycle to a halt, full carbon 8-spoke wheels bear the weight of the rider and leather taped handle bars. However, good things always come with hefty price tags and those who want to own One-77 Cycle need shell out a staggering US$39,000 for it.