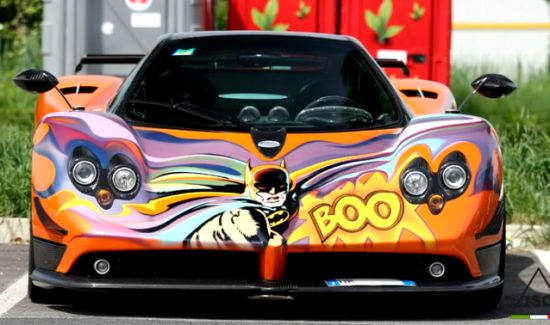 The third and final installment in Nolan's Batman film trilogy, The Dark Knight Rises, put batmobiles in action yet again. Batmobile that has been replicated by numerous fans in the past adds some new vehicles in the lineup for everyday caped crusaders. The movie has given spark to churn the imagination of people yet again and this Pagani Zonda F is what comes out of this love.
Pagani Zonda F has been given a custom batman themed warp and it looks amazing to me, really. Call it my love for anything Batman or whatever, but Pagani Zonda F as Batmobile excels any other vehicle in the pursuit. Apparently owned by an Argentinean, Jorge Gomez, who seems to have changed its regular orange hood with batmobile wrap, all for that even more attention on road. The car was an attention grabber at Graziosa's Motorvalley motor festival in San Cesario sul Panaro in Modena, Italy.
Whether you have taste for anything batman or not, the fact remains that Pagani builds a beautiful beast in Zonda F that not only offers you immaculate power and performance with Mercedes-AMG sourced 7.3-litre V12 good enough for 594 ponies but also adds more to your style quotient.
Via: Autoholics