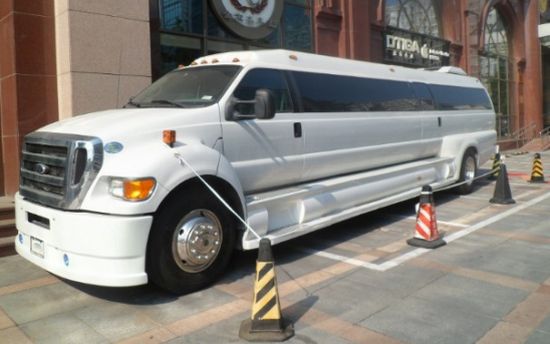 Chinese auto buffs are striking time and again with their creations – weird or beautiful. However, there is some penchant for Limousines in particular and with their recurrent appearances across the country gives the clear indication that custom Limo rage is getting a huge momentum in China. They are spotted frequently, apart from other customized vehicles that show Chinese love for custom vehicles. Here is another customized Limousine based on F-650 Super Duty which is a medium-duty commercial truck produced by FMC.
As the F-650 Super Duty truck features either a 6.7-liter Cummins diesel or a 6.8-liter Modular V10 gas engine, there remains ambiguity as to which powerplant powers this one. The gas remains a rare commodity in China and using one with V10 gas engine would put it almost out of use. Therefore, we guess, it is most likely a diesel powerplant.
Reader & serial spotter Navigator84 spotted this limousine in Beijing, which is over 20 meters long, and it's quite logical since Ford F650 is already a huge truck for a real, big Limo. Ford F650 isn't built in or exported to China, this one is the courtesy of lucrative gray market. The Ford F650 Limousine is big and that makes it a vehicle fit for party making and to be used in marriages, not to mention the power and thrill of riding in utmost luxury that the vehicle is sure to offer.
Via: Carnewschina