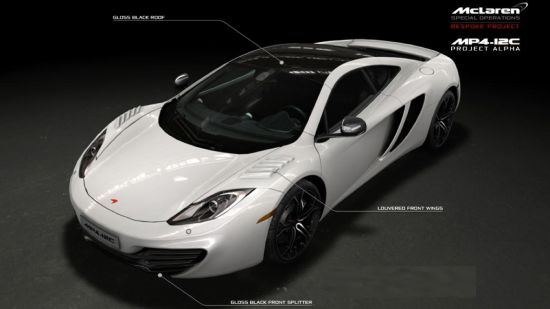 It was just a month back when McLaren surprised us with its sleek McLaren MP4-12C spider. The stunning beast in red mesmerized us all. Some neoclassists, nonetheless, were not happy with its styling at all and called it a bit too boring for a supercar of modern times. Some Chicago customers also rhymed with these blockheads and said that McLaren MP4-12C has nothing exciting to offer.
Well, that's not all and the surprise mania is to continue. Keeping in mind the customer concerns, Chicago dealer partnered with McLaren Special Operations to produce six new and unique MP4-12Cs. The project was named 'Project Alpha' and the cars look really different, badass would be a better term.
However, some pages from the McLaren Special Operations brochure has been leaked online by Jalopnik before McLaren actually talk about the special edition of MP4-12C. The pages from the brochure clearly give an insight into what these special order McLaren MP4-12c will be all about. McLaren Project Alpha will be a limited run of six cars only with cosmetic changes without any updates under the hood whatsoever.
The cosmetic changes can be witnessed in the form of gloss black paint on fender louvers, front splitter, rear deck, roof and on GT3-style bumper. While there is also carbon fiber accents on rear fender vents as well as in the interior of the car that are embellished with Alcantara leather. The cars will come with unique chassis numbers and McLaren's trademark orange, white, and grey colors.
The cars, as per the brochure, will be 2012 models with 592 ponies under the hood, unlike 2013 cars that are to come with over 610hps. The cars will be produced in the same branch of the company that built batmobile look alike McLaren X-1 we saw at Monterey the other day.
Via: Jalopnik