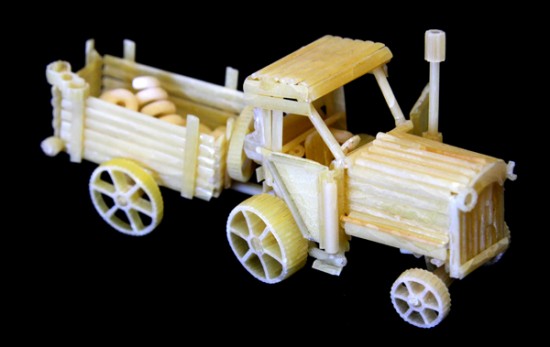 When you have craved for doing something that others haven't even thought, have all that patience and ingenuity, nothing can really stop you to excel. This is all what a Russian artist from Perm region is endowed with. Sergey Pakhomov has created ripples at the Canada's wacky Spaghetti Bridge Building Championship by introducing scaled models of cars, planes and boat created using nothing but Italian Pasta.
Surprised? Well, you might surely be. However, this isn't what comes out in a day or two but Sergey toiled hard for six long years to finally give Italian Pasta a new makeover and make it immortal in art form. He uses all kinds of pasta for his art and that includes anything from simple spaghetti and lasagna to farfalle and ruote. It takes anything around 20 to 30 hours to give shape to a model and today his awesome collection has more than 30 models, some of them very intricately detailed.
The most complex of all the models include a small town that he built in three years and a scaled car with reclining seat, doors that open and other small parts that show how meticulously the model has been built adhering to each detail. Sergey Pakhomov stores his creations at his home within a fix temperature to preserve them for a long time.
Via: Odditycentral / Pravda