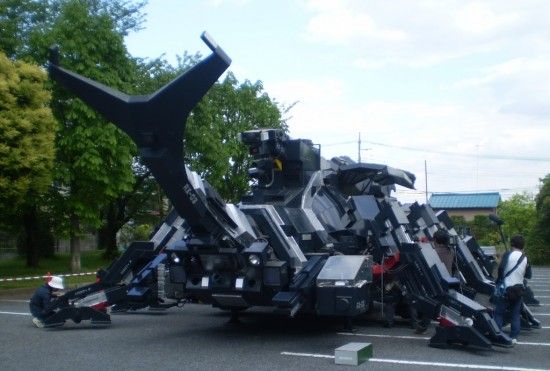 When you are a professional engineer and you put in 11 long years with all that passion and energy to build something, it is but obvious that you come out with a creation that others anyone can't help but appreciate. This is the case with 60 years old Hitoshi Takahshi from Japan who has created a monster KABUTOM RX-03 robot in the long span of 11 years.
Work on KABUTOM RX-03 robot started back in 1997 and it was finally revealed for the Japanese populace during a popular TV show in 2008. Gigantic robot featuring six diesel-powered legs giving an impression that Robot is walking but it does nothing more than pushing the body in the right direction. However, the wheels underneath supports the massive weight of the robot and help it steer in the right direction.
Rhinoceros beetle shaped huge KABUTOM RX-03 robot measures 11 meter long and weighs a massive 17 ton. The monster robot also belches smoke from its nose and is one of the most impressive functional robots ever created. Further, the giant rhinoceros beetle robot gets commands from a control panel or it can be operated via remote control from a distance with ample space for couple of passengers to enjoy the fun of riding a monster.

Via: Yahoo