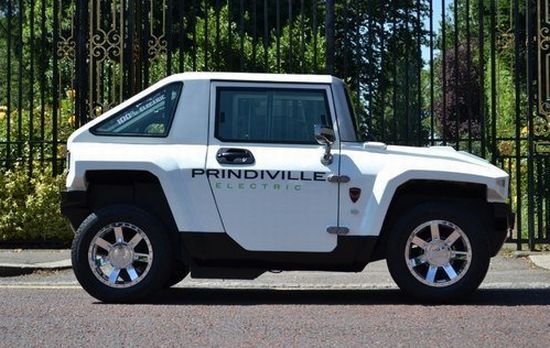 GM's gas guzzling Hummer H3 SUV might have been discontinued, but it won't cease to impress us ever after. Unlike its 3.5-liter straight 5-cylinder L52 engine that produced 220 hp and 225 lb ft of toque, this one from UK coachbuilder, Prindiville, comes with electric drivetrain in shrunk-down Hummer body. Designed with the intent to give daily city commuters an emission free transport, Prindiville Electric Hummer features lightweight chassis.
The Electric Hummer comes equipped with 72V drive system connected with two-speed transmission. Powering the electric Hummer is an AC Brushless Motor that gets a vital juice from nine 8-volt lithium-ion phosphate batteries enabling it to get a top speed of 40mph and a range of 60 miles per charge.
Featuring carbon fiber detailing for roof, wheel arches, wing mirror, side skirts, bonnet, and spare wheel cover, EV Hummer also has complete leather re-trim for interior and customized sports seats stitched with Alcantara leather for that increased comfort. Apart from this, tinted windows, hands free telephony system, customized paint and graphics package, LED front headlamps and taillights are among the prominent features.
Prindiville Electric Hummer is to come out in a limited edition of 25 unites initially and will gradually enter into full production phase. The bookings for the Electric Hummer are currently open and you can order one for a cool 40,000 USD.
Source: Prindiville