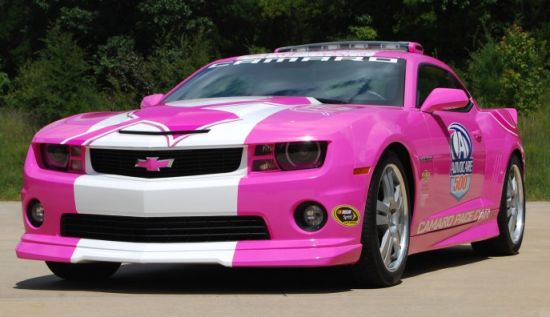 You remember Chevrolet started a campaign to support American Cancer Society on its 100th birthday last year. This year too, Chevrolet has introduced an official pace car ahead of this weekend's NASCAR Sprint Cup Series race at the Atlanta Motor Speedway. In its generous effort, Chevrolet pitches bright pink Camaro SS to help raise money for AdvoCare 500 in a fight against breast cancer.
Chevrolet, the GMs subsidiary, will donate 200 USD for every lap that the Pink Camaro SS completes during the 325-lap race on the 1.54-mile track. All the money accumulated from the program during the race will go to the 'Making strides against the Breast Cancer Program' of the American Cancer society. At the Atlanta race last year, Chevrolet had similar donation that ended up amassing $12,800 after 64 caution laps.
The whole program on Sunday will mark the renewal noble initiative that started on its 100th birthday last year. Apart from the fundraiser, 30 breast cancer survivors will attend the event and will get a ride in the pink Camaro SS with racer drivers Danica Patrick, Jamie McMurray and Ron Hornaday Jr. The generous effort from Chevrolet is aimed, as per Don Johnson, vice president of Chevrolet Sales, at achieving a world without breast cancer.
Via:  Insideline