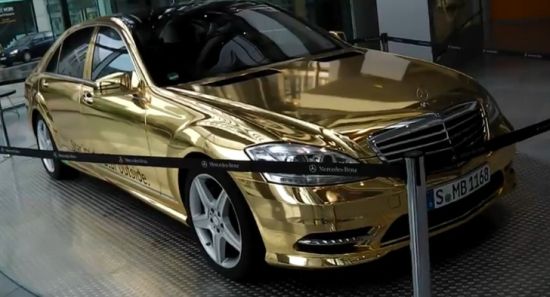 The world is full of belligerent souls who scream all the time for that cheap attention. Some of them actually have ample money to support their desires and invent new ways every time to flaunt their wealth. Gold plated cars are one of ways that they go with. The Arabian world and Russian oil barons are often spotted riding their blinged wheels in the streets. However, here we are introducing with a special gold plated Mercedes Benz S500 from W221 series that was found parked at the global training center of Mercedes-Benz in Stuttgart, Germany.
Owning a Mercedes Benz S500 is already a matter of pride as its immaculate design and undefeatable performance that comes from an engine capable of developing 388 of ponies. With the powerful engine, the car gets a sprint from 0-100km/h in 5.4 sec and has a top speed of 250km/h which is enough to give any auto nerd goose bumps. Wrapping it in gold is like icing the cake.
This Mercedes Benz S500 wrapped in gold was the part of a similarly coated Mercedes fleet used to ferry VIPs and stars of Hollywood at the 65th Palme d'OR from one point to another during Cannes International Film Festival. Whatever is the reason giving a car as good as Mercedes Benz S500 a gold warp is nothing but pompous parade of insane wealth. The money could be used for the betterment of the millions of deprived souls across the globe. Hope for the common sense to prevail one day.
Via: Autoevolution