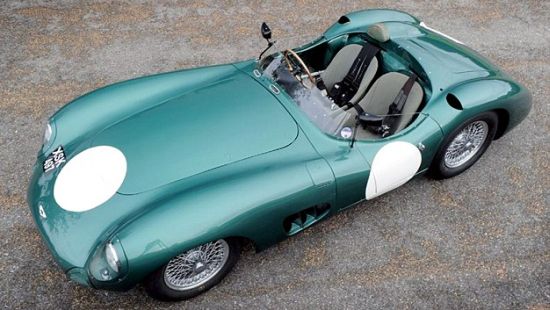 It was just a few days back we reported about 1929 Bentley Blower becoming the most expensive British car sold at auction with a £5,041,500 price tag. It took away the title from 1904 Rolls-Royce auctioned in 2007 for an exorbitant $5 million. However, the title, we hope, won't rest with Bentley Blower for a long time as a British dealer has put 1957 built Aston Martin DBR1/2 on sale for a staggering £20million (31.8 million USD at current exchange rate).
The green two-seater 1957 built Aston Martin DBR1/2 is the most iconic car in brand's 99-year history and has many records under its belt. Dominating the racing tracks in the late 50s, the car won 1957 Spa 1,000 km race, 1959 Le Mans 24-hour race and Stirling Moss drove this car to win RAC Tourist Trophy at Goodwood for two consecutive years in 1958 and 1959. The finest moment of its history, however, is 1959 Le Mans victory with Roy Salvadori and Carroll Shelby behind the wheels and the car was also awarded with the chequered flag in the same race.
The car in question here is the second of the four DBR1s ever built and is put on auction by Berkshire-based Ferrari specialist who is an Aston Martin fan too. What is described as 'Holy Grail of motoring', most recognizable and valuable Aston Martin in history, DBR1/2 has been raced its entire life but is well maintained and is in perfect running condition.
For a car that features three-liter engine developing a cool 250 bhp, has a great history and was once driven to victory by ace racers like Stirling Moss, Roy Salvadori and Carroll Shelby, £20million price tag isn't all that unlikely. All you just ensure is to take scores of cash filled bags along before finally jumping into this street legal legend.
Via:  Dailymail