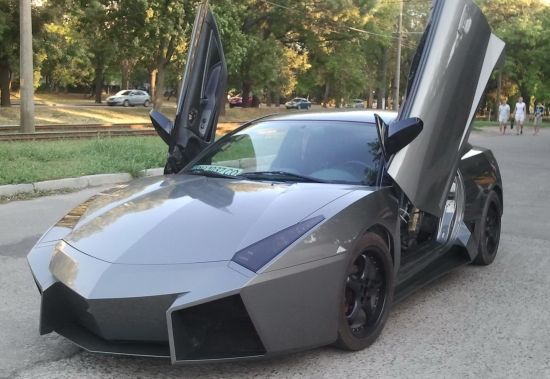 It seems, rather clear, that Italian bulls are ruling the roosts of common man's heart across the globe. It is evident from the recurrent custom built, home built and scores of conversions pursued successfully to create Lamborghini replicas at home. Wang Jian, a 28-year old created a Lamborghini Reventon replica at home using nothing but scrap metal, used car parts and his imagination.
Here comes another Lambo buff, Alexander, 30, from Odessa city, Ukraine. This guy has a childhood dream to create a Lamborghini replica. Whereas the Wang Jian's Lamborghini was a DIY creation, Alexander didn't created his from scratch. He used Mitsubishi Eclipse Coupe platform instead to make his dream a reality.
This replica on Mitsubishi Eclipse remains Lamborghini in form only but serves well to the senses. However, if we compare them performance wise, even the top model in the Eclipse lineup produces a maximum of 265 horsepower and 262 pound-feet of peak torque which is no match to Lamborghini's 6.5L 48-valve DOHC V12 engine in Reventon that produces 650 HP and a peak torque of 487 lb-ft.  Reventon features six speed automated manual transmission to get from 0-60mph in 3.3 seconds with excellent braking and handling and that surpasses the Eclipse in a similar way as greatest does to least.
Nevertheless, what we appreciate this conversion for is a considerable level of effort to make necessary changes and fabrication process that took more than two years overall. Alexander started work on the conversion in 2010 and gave final touches to the project this summer. His Lambo is good to bamboozle illiterate souls on the road!
Via: Carscoop