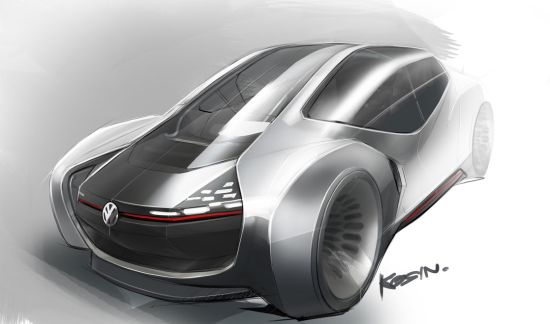 If you imagine a scenario in the year 2025, what type of cars will occupy the roads and how the big brands like Volkswagen will meet the consumer expectations in that era? Well, keeping these things in mind, a designer has come out with his interpretation of a futuristic Volkswagen vehicle that could hit the streets in 2025.
By the year 2025, car-pooling and car sharing are expected to be common and self-driven cars a reality. As a result, student designer Kosin Voravattayagon comes out with Volkswagen Trimaran project, which is sponsored by Volkswagen and developed by Umeå Institute of Design. Trimaran concept is a study of a futuristic VW autonomous vehicle depicting how the brand's design cues will evolve to integrate flexible interior customized to make it fit for car-pooling.
Aimed at the Generation Z customers, Volkswagen Trimaran Concept is imagined with automatic driving capabilities and customizable layouts to share the car space with friends and colleagues. As a result, the concept's interior is flexible and modular with two layouts: isolation and participation. In the isolation mode, car seats can slide back and forth in the cockpit area thus allowing the owner to let the guests in for car-pooling comfortably and the 'participation' mode enables the passengers to sit side by side.
Switching from one mode to other is made possible with the help of three specially designed elements that include cocoon, circular partitions and the geometry of the floor. The Trimaran concept truly evolves the Volkswagen's aesthetic design language.
Via: CBD