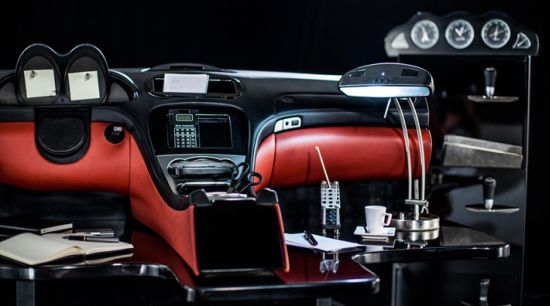 As the environmental awareness is spreading, recycling is the rage of the time. This is evident with scores of creations surfacing over the web every now and then. However, a few remain in your memory for a long time. Here is one such creation from the 27-year-old South African entrepreneur and artist Katie Thompson, which is nominated for World Design Capital 2014.
The creation is the result of Thompson's collaboration with Mercedes-Benz and she picked up seven elements from SL components to create what every auto nerd would love to own. Well, yes! The artist has recreated the fixtures and furnishings of an office from discarded SL components that otherwise would have been left to rot in the junkyard.
Mercedes-Benz parts used to create the stunning office furniture include car's dashboard as desk, speedometer as magnetized pad, air vents holds business cards and ignition lock sparks office technology via USB charger. Additionally, car's seat gets a new life in office chair, rev counter and car gages now function as multiple time zone clocks, rear view mirror now serves as desk lamp and gas and brake pedals are now penholders.
If you are a diehard Mercedes-Benz fan and love anything related, this unique desk will bring brand's feel to your workspace and will let you live and breathe Mercedes. Just imagine using one as your workstation with the same chair once you steered SLS couched in would make you a true Merce nerd.
Via: Mercedes-Benz