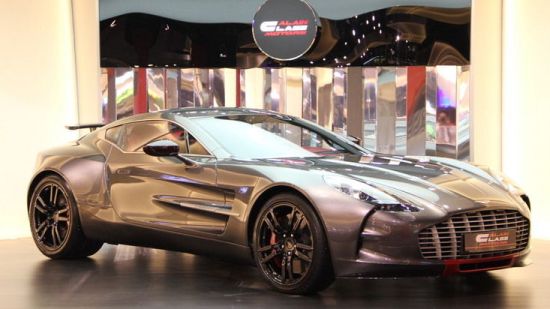 Appearing for the first time at 2008 Paris Motor Show and being fully revealed at 2009 Geneva Motor show, Aston Martin one-77 was an extremely special edition supercar limited to 77 units only. All the editions of the supercar has been built and sold. However, that's not how Aston Martin will let one of its most spectacular and famous car to slide into the annals of history.
As a result, the British brand has come up with even special edition of merely seven units worldwide to pull it little further. To be specially developed under the Q by Aston martin, one of the seven exclusive units is up for sales at Al Ain Class Motors in Dubai for a cool AED 11 Million or 2,995,000 USD at the current exchange rate, which amounts to more than twice the price of One-77  priced at $1.4 million.
Well, you might surely be thinking what's so special it offers for that extra price tag. The new model is to come with loads of carbon fiber, a header mounted HD video camera rack for luggage and diamond turned forged wheel. Featuring grey exteriors supported by luminous red interiors and you will find naturally aspirated 7.3-liter front mid mounted V12engine under the hood. V12 is capable of churning out a mammoth 750hp and 533 lbs-ft of peek torque. Engine enables the beast to sprint from 0-62mph in less than 3.7 seconds with its top speed at 221mph.
Via: Topspeed