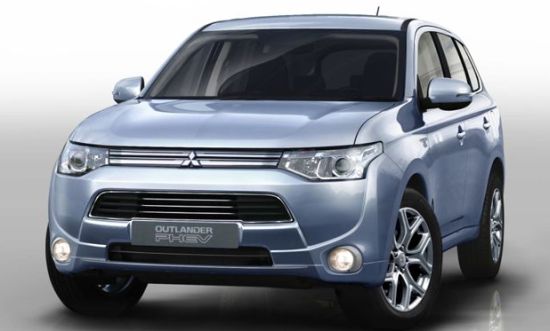 As the 2012 Paris Motor Show is inching closer with each passing day, automakers across the world have started revealing or giving sneak peeks into their vehicles to be unveiled at Paris show. The latest one is from Mitsubishi. The Japanese automaker has revealed full details of its 2014 Outlander Plug-In Hybrid before its debut at 2012 Paris Motor show. Outlander Plug-In Hybrid will be the world first Plug-in Hybrid SUV when it will hit the market early next year.
With the intent to achieve the SUV capabilities with gasoline driving range and a fuel efficiency of a plug-in hybrid, Mitsubishi uses MMC's own plug-in hybrid EV System derived from i-MiEV. In the Outlander Plug-In Hybrid, 2.0-liter four-cylinder gasoline engine is connected to twin electric motors and 12kwh lithium-ion battery pack. The Mitsubishi PHEV will have three driving modes that include a pure EV mode, parallel hybrid mode and series hybrid mode.
Boasting an electric only range of 34 miles, a combined fuel economy of 143.5 mpg and a compete driving range of 547 miles, Outlander Plug-In Hybrid will also offer an on and off-road capabilities that you won't find in Chevy Volt or for that matter, even in 2014 Honda Accord PHEV. Outlander's 12kwh lithium-ion battery pack takes 4.5 hours to recharge fully via 200-volt charger or can also be charged 80% in just 30 min with a quick charger. Outlander Plug-In Hybrid will hit the Japanese market in early 2013 before being globally available.
Via: Discovery