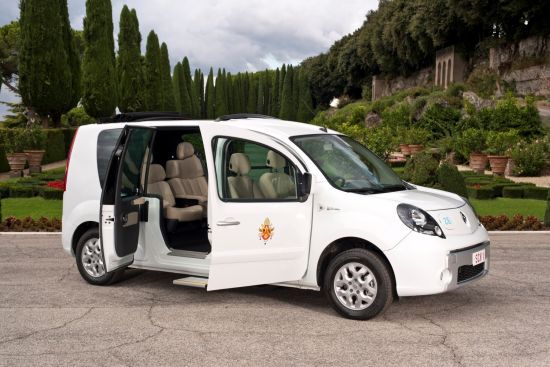 Pope Benedict XVI, the leader of the Catholic world, has already shown green aspirations while adding Mercedes-Benz M-Class plug-in hybrid to his cavalcade last year. There is no better way to set precedent for others to opt for green lifestyle than by doing it himself. That's what His Holiness, Pope Benedict XVI, has already done in the past and now he is taking it further by adding two electric cars to his fleet of green vehicles.
Renault's Chairman and Chief Executive Officer Carlos Ghosn presented the Vatican City with two electric vehicles on September 5 that are built especially to make Pope's rides green. The vehicle from Renault is based on Kangoo Maxi Z.E. and is built in collaboration with the French coachbuilder Gruau. Renault also donated a second vehicle to the Corps of Gendarmerie of Vatican City.
Renault Kangoo, the first vehicle, which is expected to be used by Pope to travel at his summer residence, Castel Gandolfo, is in white color with the Papal coat of arms depicted on the doors. Kangoo Maxi Z.E. based Popemobile measures 4.6 meters long and 1.8 meters wide. Powering the Popemobile is 60hp electric motor that gets vital juice from lithium-ion battery pack capable of propelling it to 170km on a single charge.
The second vehicle denoted by Renault is to be used by the Corps of Gendarmerie Corps of Vatican City and is almost the same in design but features blue livery with white and yellow stripes along each flank. Each of the special vehicles can seat up to four people and has specially fitted ultra comfortable separate seats at the rear. The other special features of the vehicles include opening roof, removable rear windows; hinged rear doors and electrically folding doorsteps for easy entry and exit from the vehicle.
Source: Renault