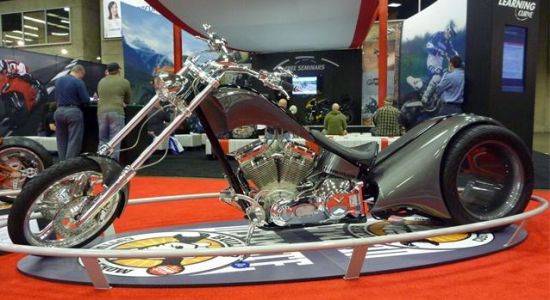 If you passion and creativity, nothing is impossible. This suits no better to master plumber Bryan Stalcup who has created an amazingly cool chopper from metal parts that others deem useless and discard them to rot in a corner. Well, this guy is a real genius and has a very creative head on his shoulders. This man created Big Hubless chopper at his home using nothing but scrap yard finds.
Winner of 2010 Sturgis Motorcycle Rally Garage Shop Fabricator Contest and people's choice award at 2011 Ultimate Builder Bike Show at Dallas, the radical Big Hubless chopper took 13 months to come into being. The rear wheel of Big Hubless chopper has no hub or for that matter axle and it sits on scrap yard sourced industrial machine bearing. The motorcycle turns left or right at rear where it links up to the frame behind the seat.
The rear tire was put on the bike before rest of the custom job was completed and it can't be removed without damaging the bike. So, if your tire goes flat it will put in formidable situation. That's the only drawback of this amazingly cool bike which is more a piece of art.
Via: Ffjournal