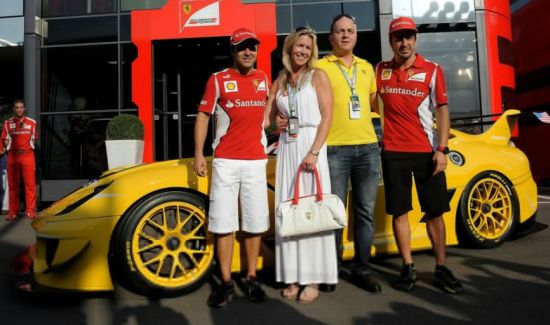 We reported in May this year that Ferrari has put its memorabilia on auction to support the earthquake victims of Emiglia Romagna region of Italy. Apart from the Ferrari F60 nose cone from the 2009 F1 car, a 2008 F1 V8 engine of Scuderia car, helmets and suits that once worn by legendary Giancarlo Fisichella, the star of the memorabilia put on auction was none other than Ferrari 599 XX Evo model.
The items were sold for 2.2 million in May itself but the name of winning bidder of the Ferrari 599 XX Evo wasn't disclosed until today. Surprisingly he comes out to be none other than the billionaire Google VP, Benjamin Sloss. He spent a whopping $1.78 million to put his hand on this stunning piece of automobile. To grace Benjamin Sloss for his generosity, Ferrari President Luca di Montezemolo together with renowned F1 drivers Fernando Alonso and Felipe Massa presented the car to him at Italian Grand Prix at Monza last week.
Extreme Ferrari 599 XX Evo isn't street legal but a track only sports car and is equipped with the same V12 engine, but with upgrades, that road legal 599 GTB Fiorano has. The engine churns out a whopping 740hp to lap the Nürburgring-Nordschleife in just 6:58.16. Benjamin won't drive this treasure to his home and is expected to leave it under Ferrari care with a request to bring it out three-times a year for special manufacturer days.
Via: MA