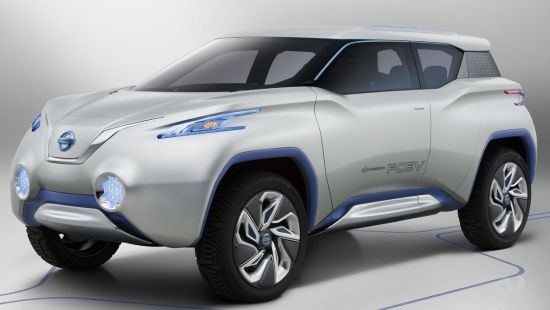 An addition to a long list of vehicles previewed before their debut at this year's Paris Motor Show is Nissan Terra. The fuel cell powered Terra SUV is to be revealed at 2012 Paris Motor Show on 27th of September and is the embodiment of Nissan's readiness to  produce zero emission fuel cell powered electric vehicles for masses; the sooner hydrogen is made available at the gas stations.
More of a design concept than a technical exhibit, Nissan Terra has an all-wheel drive electric powertrain, consisting an electric propulsion system, which is also used in Leaf EV, to power the front wheels while the both the rear wheels have in-wheel electric motor each enabling the vehicle have an all-drive flexibility. There are no details available on the power generated and the rage Nissan Terra is to offer. It is expected to come with its reveal only.
Nissan Terra SUV concept is based on prototypes featured in automaker's Pivo concepts. The use of in-wheel electric motors has three benefits: it nullifies the need of a drive shaft, paves way for a flat cabin floor and a cleaner underbody. Hydrogen fuel cell stack that fills the engine space under the hood gives what Nissan boasts a world-leading power density of 2.5kW per liter.
Designed with an aim to provide future customers with a secure driving experience in all road conditions together with eco-friendliness, Terra marks not only Nissan's new approach in building SUVs and crossovers but also takes it to a new high. Featuring exclusive diagonal seating layout, excellent visibility, thick an wide tires for better grip in any road condition, solid pillars, a high belt-line but a slim waist, exquisite lamps and many more that add more to the aesthetic stance of the SUV are some of the prominent features of Nissan Terra.
Inside, you will find driver's seat positioned almost centrally for better visibility, the removable display screen that replaces the traditional instrumental cluster and gives all the vehicle related information and contrasting wooden and sliver surfaces in the cabin. All the three seat folds forward paving the way for the flat cabin surface to store bikes, kayaks and other paraphernalia you would like to take along for your short excursions.
Via: 
Autoguide