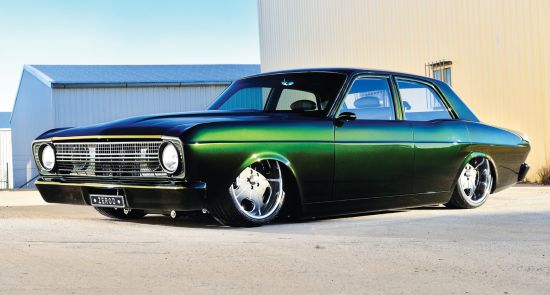 The Australian International Motor Show in Sydney this October will witness the 1967 Ford XR Falcon based ZERO'D hotrod and it's green. By green, I surely don't mean it has an electric or a hybrid configuration but it has zero emission footprint in construction as it features the reused and recycled components.
With an intention to build a muscle car with green credential, Mick Fabar, owner of Green Homes Australia, gave form to this beast using numerous waste material components. Dubbed the ZERO'D, the hotrod is deemed to be the world first elite eco-friendly custom-built muscle car. Based on the four-door 1967 Ford XR Falcon sedan that gets powered by a turbocharged 7.3 liter V8 engine developing a healthy 600hp. Engine is mated to the Allison four-speed automatic transmission that transfer power to the rear wheels.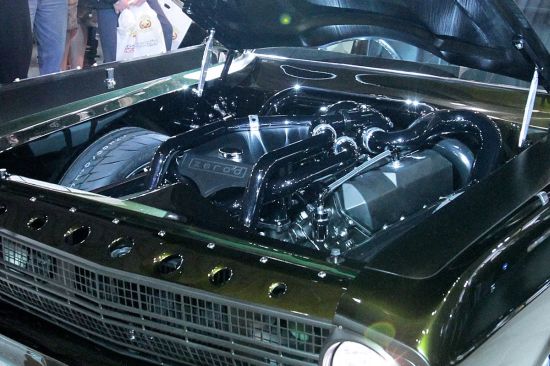 However, 7.3-liter V8 engine is modified to run on B20 biofuel, which consists of 20% bio and 80% diesel fuel to drastically reduce the tail pipe emission up to 70 percent, but still delivers healthy horsepower and torque. Components from waste and reused parts that make this falcon scream for the 'green car tag' include second hand body panels, recycled nuts and bolts and its black leather interior trim is hand stitched using hide off-cuts and scrap pieces that are otherwise discarded and left to rot.
ZERO'D falcon that took 11 months to plan and seven months to built doesn't, however, remain a totally recycled marvel as some of its parts that include rubber and glass as well as radiator and intercooler weren't either available in good condition to replace or has to be specially made to suit the purpose. ZERO'D hotrod will be the star of the AIMS in the month of October.
Via: TMR