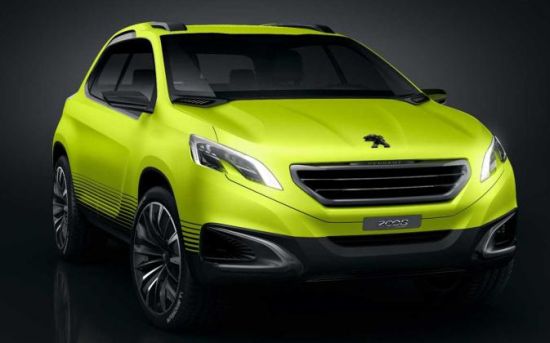 With the revealing of too many cars ahead of their debut at the 2012 Paris Motor Show, it seems that there won't be anything exciting left for the show goers, apart from seeing these vehicles live at their booths. Nevertheless, next vehicle added in the long list of vehicles unveiled before Paris Motor Show is Peugeot 2008 concept, which is leaked earlier today.
Peugeot 2008 is a compact SUV aimed at the young city populace and borrows some design cues from the Peugeot Urban Crossover concept revealed in Beijing earlier this year. However, 2008 compact soft-roader also blends front end and raked windscreen from Peugeot's 208 supermini and chisels the flared arches and sculpted wings to give it a more aggressive stance.
Measuring 4140mm in length and 1740mm width, Peugeot 2008 is slightly longer but shorter than Nissan Juke and 245mm shorter and 91mm narrower than an Audi Q3. A 1.2-liter triple engine capable of producing 110hp will power the compact Peugeot 2008 SUV featuring yellow exterior, black accents and a new tailgate-mounted spoiler.
The Compact SUV is expected to enter production sometime in 2013 will be produced in France, China and Brazil and is to give a stiff competition to all-new Ford EcoSport, Holden Trax/Opel Mokka. Peugeot 2008 will be revealed on 27 September at 2012 Paris Motor Show and with that, the much-awaited details will also surface.
Via: Autocar