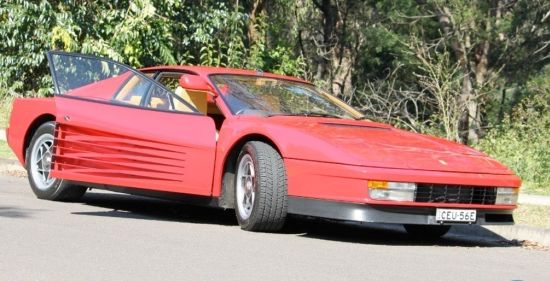 If you love Elton John's symphonies and a diehard Ferrari Fan, then this Ferrari Testarossa is a car for you. Presented to Elton John on his 40th birthday by MCA records, the 1987 built Ferrari Testarossa is up for the grabs at the Australia's CarSales network. Complete with letter signed by Sir Elton himslef, Ferrari Testarossa model has clocked less than 12,427 miles ever since it left brand's Maranello manufacturing plant.
Built from 1984-1991, Ferrari Testarossa model is powered by 4.9-liter flat-12 engine that develops a healthy 390 horsepower and 361 pound-feet of torque, enabling it to sprint from 0-60mph in 5.2 seconds, en route to its top speed of 180 miles per hour. The performance is exceptional even by today's standards.
The model in question here remained untouched except for regular maintenance and it still has original tool kit and a stereo that Elton listened to. When Ferrari Testarossa was available in the market it cost in the range of $50,000 to $75,000. However, the celebrity status gives considerable boost to its asking price, which is at AUD 175,000 which equals to 182927 USD at the current exchange rate.