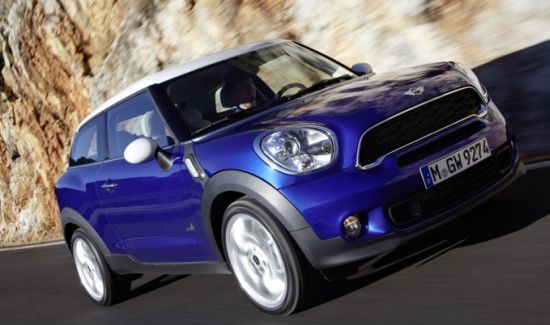 Images, specs and price of Mini Paceman has officially been revealed before its world debut at 2012 Paris Motor Show. The seventh production model in Mini lineup is a three-door, sleeker version of the Mini Countryman. Featuring innovative technology and versatility with diesel and patrol variants that come with front and all wheel drive options, prices for the Mini Paceman will start from £18,970.
Mini Paceman has hoards of features that include technological advancements, better power and handling, downward sloping roofline to enhance sportier looks, flared wheel arches that add to its muscular stance and unique helmet roof that jells with coupe lines. Furthermore, sloping rear window, horizontal tail lights integrated for the first time in Mini and a standard cabin design with a seating capacity for four completes the package.
Mini Paceman is to come with a range of gasoline and diesel engines. The base model of the Paceman will get power from turbocharged 1.6-liter four-cylinder petrol engine, developing 122hp and 118 lb-ft of peak torque to get 0-62mph in 10.4 seconds and a top speed at 119mph. Mini Cooper Paceman S will be equipped with 1.6-liter four-cylinder turbo engine generating a moderate 181bhp and a peak torque of 177lb ft. The possible buyers can opt for a six speed manual or automatic gearbox as well as between front wheel or ALL4 all wheel drive models. With these configurations, Paceman S gets from naught to 62mph in 7.5 seconds, with its top speed at 135mph.
The Mini range also include diesel powered Mini Cooper D Paceman and Cooper SD Paceman, wherein the former is a front-wheel driven car with 110bhp and 199lb ft of torque. Cooper D is the most fuel-efficient car in the lineup and offers a combined fuel economy of 64.2mpg when connected to 6-speed manual transmission. It comes with a price tag of £20,210. The latter, Cooper SD, develops 141bhp and 225lb ft of torque and costs £23,070.
Via: Autocar